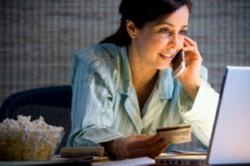 Topeka, KS (PRWEB) June 24, 2012
Merchant Data Systems, a well known Kansas Merchant Services company, has formed a recent joint venture with Karma Snack, a well known SEO company. The purpose in forming this association is to promote growth and better merchant account services for its existing and potential new clients.
Up until a few years ago, merchant services were pretty basic. A client had a business and Merchant Data Systems simply placed a credit card machines in their business or installed basic merchant software in their retail store so they could process credit card payments. Now, because of economic changes and technological advances, there are additional credit card processing needs for Kansas customers to be able to accept credit cards easily.
Because there is a huge growth in the online industry, there is also an increased need for better credit card processing companies to meet online payment processing needs. MDS has faithfully fought to continually meet its customers needs and has succeeded in delivering better online merchant account services for Kansas area merchants.
Still there is a constant need to improve services, so the joint venture made with Karma Snack is intended to fill gaps of knowledge, product, and software that Kansas merchant services offered by MDS lack.
Part of this program not only offers more secured online payment gateway solutions, but also tools that help merchants see full financial transactions and tools that help get MDS clients more clients of their own. Merchant Data Systems hopes that by offering a more complete suite of tools and options in their credit card merchant account, customers will be better able to handle their customers payment processing needs.
It is through ventures like this that MDS is able to meet specific needs like that of mobile payment processing, that small business people who work in a mobile setting need. For instance, contractors, service providers like computer technicians, locksmiths, and people who visit homes need better payment processing methods, especially as fewer people carry cash with them. The technology Karma Snack brings to the table helps MDS meet these needs.
Merchant Data Systems has serviced Kansas since 1997, and has always focused on customers needs, growing as technology and customer requirements demand. So too has Karma Snack paid attention to its customers' needs when it refers to better online placement of a website, website development, SEO, and programming. It is the joining of both companies that can extend their services, allowing them to offer even better products and customer service. Both companies offer 24 hour customer support, which only reinforces the support they offer for their combined suite of tools.
According to COO, Spero Lyons from Merchant Data Systems, "The combined products and services offer a wider variety of financial services and marketing tools that can help our customers keep their costs very low. Still, keeping each merchants costs as low as possible while giving him enough stimuli to grow is our aim, so we want to consult with every Kansas merchant to see how his business is oriented and where his future plans extend to."
This new set of tools and services combined by both companies is known as MDSSEO and will ensure that clients have the best credit card processing tools, programs, and equipment they need for their business. However, not all businesses will require the same tools and programs. This is why a MDSSEO consultant is always sent out on a first free consultation to determine what each individual business really needs.
The new MDSSEO offers every client the success of a credit or debit card transaction regardless of how or where the customer chooses to pay. This technology allows clients to better manage their websites and marketing campaigns, allowing them to grow their sales safely and efficiently. MDSSEO services help clients get their products to the top of the search engines so their own clients and customers can find them and effectively purchase the items they need. It is a win-win situation for both the MDSSEO venture and the customers they service.
This venture not only gives current Kansas customers a better and more complete set of both physical and online payment gateway payment processing methods, but it also gives marketing teams a better and more complete set of products to offer future potential customers. This new payment and internet marketing service including, branding, corporate communications, website design, and mobile applications products will give the new sales team a great advantage over other competitive merchant account services available in the Kansas area.
New and existing businesses will find it well worth their time to look into this new MDSSEO venture consisting of Merchant Data Systems and Karma Snack. This is a more complete revenue making option, a complete service packaged under one product so to speak. One that other merchant service account providers just cant compete with.