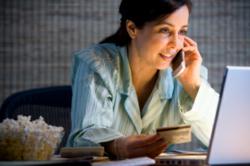 Saint Paul, MN (PRWEB) July 20, 2012
When there is a team up between two companies, people always wonder how the it will impact both and the people who buy products/services from these companies. In the case of Karma Snack and Merchant Data Systems (MDS), there is not much to worry about. These are two companies that have had a lot of success in their businesses. Their joint forces will just ensure that their services are kicked up to the next level. After all, they will be able to offer Minnesota merchant services like never seen before. If a business, regular or online, wants to take the next step in methods of offering payment, then it will want to get an online merchant account with MDS/Karma Snack.
The most crucial services offered by MDS and Karma Snack will pertain to a payment gateway and credit/debit card processing. With these services they make sure that all businesses have the ability to accept credit/debit cards in a variety of different ways. MDS and Karma Snack offer infinitely more options than typical credit card companies.
An online business would really enjoy the benefits of a MDS and Karma Snack team up. Businesses that sell products and/or services online will now have the ability to accept credit cards, debit cards, online checks, and other innovative payment methods. MDS/Karma Snack will also be offering a mobile credit card processing service that enables people to accept payment from customers while they are on the go. This is great for a traveling merchant, or one who bases their business on the street. The days of just being able to accept payment on credit card machines is really a thing of the past.
Another wonderful service that MDS will offer is the cash advance system. This is a service that some people tend to not consider, but in truth it is one of a number of vital features of their new merger. We know just how much of a financial drain starting a new business can be. Paying rental fees, equipment fees, miscellaneous expenses, staff salaries, and taxes can really add up. There are many cases where merchants may need to borrow money to keep up with these payments. Instead of going to a bank, merchants can simply set up a merchant account and get advances through that. With a credit card merchant account, clients can get advances on upcoming credit card earnings for the next month or two.
MDS' cash advance program takes into account how much money a business will make in the next month and then decides on an amount to lend them. Any advance taken out can be paid back via the online merchant account. Another way to set up repayment is for MDS to simply take out the payment from the revenues a client makes through credit card payments.
MDS is offering a host of top of the line virtual merchant services. MDS has reached a point where they are now the best alternative to traditional credit card processing companies. They do not stick to a simple payment gateway, as payments can now be offered through online checks. This is an innovative feature that goes beyond simply getting someone's check number and account number. With this online check service, an account can be instantly verified and ensured that the payment is processed. Following an approved transaction, payment will be in your bank account within two days. This level of speed and efficiency has never been seen before, especially where checks are concerned.
MDS also offers some top notch payroll services for merchants. These services give merchants the chance to conduct their payroll in a safe, secure, and efficient manner. Any data on payroll can be accessed through the internet, which means a client can get to it at home, on the go, or at the office. This data can also incorporate employee benefits and any insurance policies that an employer might take out. Calculations for life, health, and accident insurance policies are all incorporated into MDS' payroll system offerings.
Mobile credit card processing is dealt with through the ROAMpay software. ROAMpay software allows for credit/debit card payments to be processed either through a cell phone service or through your computer. These two options are available for merchants who choose to get ROAMpay from MDS. The great thing about the mobile service is that it works on all phone brands and networks. The software is bulletproof in terms of security, so a client does not have to worry about lost data. In addition, the cost of processing payments is minimal in terms of your monthly phone bill.
There is no limit to what MDS and Karma Snack, a Miami SEO Company, can achieve. These are two companies that are at the top of their industry, with unlimited growth potential. Payment methods are constantly evolving. Chances are that these two companies will be at the forefront of any evolution that takes place in the payment industry.
All team ups are judged and classified based on how both companies were improved as a result. With the features and services that MDS and Karma Snack seem to have lined up for states like Minnesota, there really is nothing to worry about. It seems as if the quality of merchant services being offered is just going to get better and better.