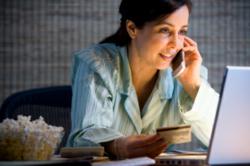 Lincoln, Nebraska (PRWEB) June 15, 2012
Business owners in Nebraska have the opportunity to take advantage of the latest technology in merchant services. Merchant Data Systems are expanding their services to Nebraska. Utilizing the latest technology, this company has proven to significantly optimize the current mode in which a merchant uses to accept credit cards at an affordable rate.
While most are familiar with standard credit card machines that require a manual swipe, new innovations are making the process quicker and easier than ever before. Many businesses have found that mobile credit card processing meets their needs in ways that a stationary terminal cannot. For example, during a promotional event such as a trade show, the business representative can sell sample products with a credit card on the spot. These mobile terminals are lightweight and easy to transport.
It seems cell phones can be used to do anything, and taking payments is no longer beyond their vast capabilities. Business owners can now accept a credit card payment quickly and easily using their smartphone. This adds a unique portability option different than transporting a mobile processor.
For Nebraska merchants who are hesitant to implement new technology into their well established business practices, it is worth considering the addition of a credit card merchant account. A growing number of Nebraska shoppers are replacing the use of cash altogether. After all, cash can be lost or stolen without the possibility of replacement. Businesses who do not accept credit cards lose business every day to competitors who have taken the efforts necessary to keep up with changes.
On the other hand, there are some businesses who have taken extra steps to eliminate less modern means of payment such as checks. It is understandable that, with the acceptance of a check for payment of a product or service, the merchant runs the risk of never receiving the funds as it is inevitable, a certain percentage of checks will bounce.
However, there are still consumers who prefer to have a written record of their transactions and use checks as their primary source of payment. In the event that a merchant does not accept checks, the customer may choose to take their business elsewhere.
Merchant Data Systems recognized this conflict, so they presented a solution. They can provide the merchant the ability to process checks electronically. Using a machine that can scan the routing and account numbers from the check, it can find out if the funds necessary to cover the check indeed exist and instantly processes the payment in much the same way that funds are transferred using a debit card. Utilizing this method, everyone wins.
Many businesses are choosing to create an online presence to offer their products and services to the ever expanding online market. Consumers are becoming accustomed to shopping in the comfort of their home on the internet, and this trend is expected to continue to increase in popularity. Merchant Data Systems can assist Nebraska business owners with setting up their very own online merchant account in order to sell their items online.
Online marketing is genius. The business earns money at all times of the day and night without the overhead expenses incurred by normal, day to day business operations. Furthermore, the utilization of an online payment gateway requires the customer to manually input their credit card information into the their computer, so the cashier does not even have to make the effort of scanning a card. The merchant can even save money on receipt paper as this, too, is an expense the customer will be responsible for. An email notification with all of the details of the transaction is sent to the customer who can either print it or save it for future reference.
The internet has also created the need for business owners to be more creative in the way they promote products and services. With the pressure that results in a worldwide competition base, special offers are a must to keep customers from finding a better deal elsewhere. Merchant Data Systems gives their clients the opportunity to implement gift cards and loyalty programs. This gives the customer an incentive to continue to return as doing so rewards them free merchandise and other prizes that can be decided by the business owner.
Merchant Data Systems has implemented all of the latest innovations in the industry that many credit card processing companies have not yet explored, and Nebraska business owners have a lot to be excited about as this reputable company expands their services in the area. Those who do not yet have a merchant account or wish to upgrade their current Nebraska merchant services now have a wonderful solution sure to meet their needs.