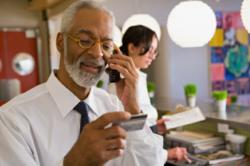 Carson City, Nevada (PRWEB) July 10, 2012
Merchant Data Systems or MDS is pleased to announce that they are teaming up with Karma Snack—an internet marketing and consultation firm based in South Beach, Florida. This team up allows both companies to expand and combine their marketing skills while enhancing services globally, and in Nevada.
Making sure that payments are processed with ease is important for any successful business. Whether you are getting ready to launch a small business, or are you are a veteran in E-commerce services, Merchant Data Systems is important in making sure a client gets paid, their customers get paid, and their bills get paid on time. Nevada merchant services should offer only the best credit card and debit card processing, to keep customers coming back.
Clients can also reap the rewards of MDS' expanding services by setting up their own merchant account. Having a merchant account, exclusively through their business or their product line allows them to collect funds quickly through a streamlined process. Efficiency will help assure that every customer is satisfied with the transaction process. Long gone are the days of trying to set up a merchant account on your own and waiting hours and in some cases days for technical support or reliable customer service. MDS offers multiple options for all of their clients' payment processing business needs.
If a client's business is primarily run online or they allow telephone orders after-hours, they may want to offer mobile credit card processing to their clients and customers. This offers buyers a way to conveniently place orders from any remote location—even if they are away from their computer. MDS allows customers to wirelessly place an order using their smart phone or HTML5. This new technology merges easily with POS integration, e-commerce shopping, and most products that are previously set up with pricing, type, and quantity. A business shopping cart simplifies the credit card processing and transaction, making it more convenient for the merchant and the buyer.
In order to be able to have a successful e-commerce or online business, being able to accept credit cards should be a number one priority. Karma Snack has been able to market several businesses successfully, including their team up with Merchant Data Systems. This is exciting news for consumers and business owners across the globe! Not only does this make it easier to accept credit cards, SEO is enhanced and this boosts exposure to wholesale merchant processing, allowing small businesses to reach out to current customers and new diverse potential clients.
Credit Card Processing Companies are more than just their own business, they strive to provide top-notch service, innovation, and excellent processing products for both the client and the consumer. Karma Snack not only provides the latest internet marketing tools and sales intuity to all of MDS, but its subsidiaries as well—making Nevada Merchant services soar with sales and team support.
Having the correct credit card machines set up is important. Making sure there is around the clock support when a transaction is questioned or the server goes offline momentarily, will help set the customers mind at ease. It is equally important to have a credit card machine also be able to handle debit card transactions, as well as EBT or electronic benefits transfers where applicable. The debit card transaction will allow funds to be instantly available and will reduce the occurrence of charge backs, overdraft fees, collection costs, and lapse in payments.
Having a credit card merchant account, means having a safe and effective transaction solution to all of a client's business needs. This includes check cashing or electronic payroll, credit and debit card transactions, telephone orders, online transactions, and mobile ordering capabilities. This opens up a client's entire bank account and links products and services directly to their customers.
Having an online merchant account is one way that merchants can still run a successful business while not being tied down to a store front 24 hours a day. MDS will work with their client's budget needs as well as the needs of their business and customers to set them up with the right online merchant account based on their average sale volume and revenue.
Merchant Data Systems is the ultimate payment gateway for making sure that funds are immediately identified and the transaction is processed within seconds. Electronic payment transactions also minimize the risk for identity theft as well as the overfunding of transactions. MDS is also set up with technical support systems that are reviewed daily to catch mispriced transactions or alert the customer if there may be additional fees that could accrue once the payment is processed.
Setting up the best payment processing system is a number one priority for Merchant Data Systems.