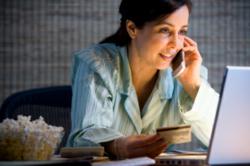 Jefferson City, MO (PRWEB) September 17, 2012
Not many consumers are aware that pawnbrokers have existed in China for 3000 years, as well as also being in business as far back as ancient Greece and the Roman Empire. In England, King Edward III pawned the royal jewels in 1338 to help finance the war with France, as did King Henry V in the year 1415. Even back then, Pawn shops were obviously not patronized by just the poor.
Although these businesses have long been based on a strictly cash and carry business model, times have changed. Most all of them now accept credit cards and debit cards, as well as electronic checks in-person, online and by phone. They generally do a great deal of business daily, so effective credit card processing is a must for these busy merchants.
The rapidly increasing potential of Merchant Data Systems (MDS) for use by Pawn shops and salvage yards has just taken a huge jump with their team-up with the highly innovative Internet marketing team at Karma Snack. As an exceptional SEO service provider, Karma Snack is highly talented and also brings numerous other key Internet marketing solutions to the table. Founded in 1997, MDS has become a true leader in their field, offering mobile credit card processing, merchant cash advance, payroll solutions, invoicing solutions, virtual merchant, wireless processing and POS Integration in addition to the usual credit card machines and merchant processing.
Until recently, Pawn shops in the U.S. were often viewed as little known businesses on the bad side of town. Many consumers were not even aware of the great values available there on all types of jewelry and precious gems, sports memorabilia and other collectibles, and much more. On any given day, a customer can buy a beautiful diamond ring for less than half of what the retail price would be. Many collectibles and electronics can be purchased for even less. But, their relative obscurity has now ended and these merchants have been thrust into the national spotlight recently with the popularity of television reality shows like Pawn Stars in 2009, Hardcore Pawn in 2010 and Cajun Pawn Stars in 2012.
Now numerous additional business activities have been added to many pawnshops nationwide and they generally include financial services like payday loans, car title loans, check cashing, and currency exchange. Many pawnbrokers now offer a variety of financial services, not just one of these. This new branching out can be greatly enhanced by the use of the many products offered by MDS. Having the ability to accept credit cards, debit cards and electronic checks greatly improves the payment process, especially in the case of payday or title loans. In fact, credit card machines have become a very effective collection method for check cashers, as well as payday and car title lenders.
Online pawnbrokers were introduced in 2008 in response to the economic slump. These e-commerce pawn websites provide an opportunity to consumers to pawn their items without leaving their home or office. As a member of the online merchant community, these pawnbrokers rely heavily on highly effective merchant processing that never lets them down. To that end, the MDS/Karma Snack teaming can greatly increase the profitability of all online pawnbrokers nationwide, both large and small.
Many Salvage yards have gone online as well, allowing their customers to order parts and pay online via the merchant's shopping cart and receive their parts quickly with very little effort. This e-commerce solution would not be possible without forward thinking companies like Merchant Data Systems setting up seamless merchant services to facilitate customer payment processing. In addition, MDS' invoicing solutions and POS Integration are valuable tools that growing Salvage yards can't do without.
Many pawnshops and salvage companies also deal with mail, telephone and fax orders, so the MDS check-by-phone program with check guarantee is a must-have to avoid losing any viable sales. It's a fact that some 50,000,000 consumers nationwide are unable to qualify for a conventional credit card, so MDS check-by-phone is definitely the answer. Check-by-phone with check guarantee allows those customers to pay over the telephone and not miss out on the purchasing experience just because they don't have a credit card.
Since standard credit card terminals are not portable, a mobile payment solution can be crucial for both pawnbrokers and salvage companies. Merchant Data Systems offers the very best in state-of-the-art mobile payment solutions for these merchants to make sure that they never lose a sale. A lost sale means lower profitability, so MDS offers every possible tool to merchants to run their businesses at peak efficiency, from POS Integration to mobile credit card processing. And now, with the help of their new team-up, they can now offer online merchants everything they need to prosper in today's economy and virtually pummel the online competition.