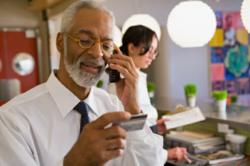 Miami Beach, FL (PRWEB) July 30, 2012
Credit card terminals are located in nearly every eating place in the world. The ability to be able to accept credit cards is something that is very valuable to a consumer. Many restaurants provide these credit card machines as an advantage to the customers, however; these merchant services can actually be a large advantage to the restaurant too. While they provide credit card processing, that is just the beginning of the services a merchant can offer. Merchant Data Systems is now offering new top quality merchant services for the food industry.
For starters, having an account with MDS, allows credit card machines to be integrated with cash registers. POS Integration allows the clerk to quickly scan the credit card and process the transaction all without ever leaving the register. No need to go to a terminal at the other side of the room, the register can take care of everything. Those who use an integration system do not need to have a credit card terminal in their eatery. For those who do not have sophisticated registers, merchant transactions can be easily done by any internet ready computer. There are many options for using credit cards and billing with ease. A restaurant that accepts credit cards will have more revenues than those that accept cash only. Most consumers do not carry cash.
Most establishments have probably never thought of a credit card machine as a payroll center, but it is possible. Actually the merchant service center at MDS can help the owner of a card terminal to process payroll. Using two of the largest payroll companies in the country, a merchant account can help restaurants have an easy payroll solution. Payroll can be difficult with all of the taxes and insurance deductions, having a professional handle it makes it easy and one less thing for the manager to worry about. Merchants offering payroll solutions is just one more added benefit of using MDS.
Merchant processing can handle payroll and customer transactions, but what about a cash advance? By using the Money For Merchants program, cash advances are possible to the business itself. They are simple transactions that can be repaid at a later date using the merchant account. The money can be instantly provided and repaid based on the probable future credit card transactions. FASTCASH is a program that allows businesses to get the cash they need when they need it. It is all based on the monthly sales projections. Businesses that find themselves in a bind or have had a slow month can get the cash they need quickly. Whether it is cash to meet payroll or the need for more supplies, having the ability to obtain a merchant cash advance is optimal.
The new rage is to use a mobile phone to pay for purchases. HTML5 is the standard language that is used for most smartphones. Any Apple or Android phone will have this service. More than 80 percent of all smartphones used are Apple or Android. Customers love to have the ability to be able to simply scan their phone and pay for their purchases. MDS offers a company the ability to keep up with technology and offer their customers this feature. Making cash register transactions are a breeze with these new and innovative options. Making a mobile payment is the wave of the future and it is important that eateries have these options. Best of all, any transaction made using a phone are completely complaint with PCI regulations. Customers can feel safe knowing that they are able to scan their phone and pay safely.
Some eateries have online location. Many companies will sell famous products and ship them across the globe. To have an online presence, it is important to have a good eCommerce system. Any restaurant with online stores will have some sort of shopping cart to allow customers to select items. The checkout process can be simple and safe when using MDS. Having a merchant service account will allow the companies that branch into an internet payment plan to be covered. People are leery of putting their credit card information online, but with the safe credit card transactions done through MDS, there are no worries.
Writing a check has never been easier. Some restaurants do not accept checks because of the large hassle they are. When using a check scan machine through MDS, the checks can be deducted from a checking account just like a credit or debit card transaction. The machine scans to make sure the funds are available and then makes the transaction. If the checking account has had trouble before, the account will not allow the transaction to go through. For those customers who do not use credit cards, but have checks, MDS can help. The advantages to having a merchant service account are vast. While some companies only offer one service, credit card processing companies like MDS can offer a restaurant much help.
From eCommerce to invoicing solutions, having a merchant account is a wise investment. To get a merchant account with MDS, the company only needs to have been in business for as little as 30 days. Eating places must have the need for a credit card processing terminal and the customer volume to support it. All of the features that are offered through a merchant can be found with MDS.