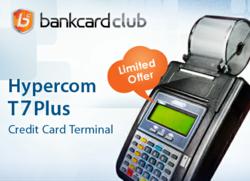 bankcard club continues to work towards lower costs for merchants
City of Industry, CA (PRWEB) December 14, 2011
The credit card machine is the most crucial part of electronic payment processing and the integral component to connecting merchants with their customer's electronic payment. The Hypercom T7Plus is one of the most popular credit card machines available on the market, and now bankcard club, a leader in low cost credit card processing, is offering this terminal at a significant discount. Merchants looking to replace their dated machine or simply get a terminal can now purchase the T7Plus for only $129 directly from bankcard club's website at http://www.bankcardclub.com/t7plus with no contract required.
Several small businesses continue to struggle with the current economic conditions. With an emphasis on low rates, bankcard club continues to work towards lower costs for merchants, one reason the T7Plus is being offered at such a low cost. What's more, merchants can get this popular terminal for free when approved for an account with bankcard club. It is common for new merchants to find that they were overpaying for their credit and debit card transactions and bankcard club strives to make accepting electronic payments a cost effective solution.
In addition to offering this low rate on the T7Plus credit card machine on their website, bankcard club is also extending this offer to its eBay store. bankcard club offers several other terminals to accommodate business needs for all their merchants.
About bankcard club:
bankcard club (all lower case) is a registered merchant services provider/independent sales organization of Elavon, Inc. Backed by over 15 years of experience, bankcard club offers competitive pricing on merchant accounts and credit card processing for all types of businesses. Learn more about merchant services at bankcardclub.com.
# # #