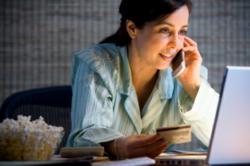 Miami Beach, FL (PRWEB) August 29, 2012
There are many tailors and seamstress businesses that only accept cash or check. While some have integrated to the electronic payment methods, some are still behind the times. In order to effectively service all customers, a merchant must have the ability to accept credit cards. Merchant Data Systems is a merchant services provider that gives those who do mending and alterations the ability to accept credit cards as a payment method and is now offering new expanded merchant services.
By joining forces with a great merchant processing company, like MDS, companies can provide their customers with many options concerning payment. There are a few types of electronic payment methods that a merchant can enjoy. The first way to accept payments is to have a traditional credit card terminal and the ability to process debit and credit cards. The cashier simply swipes the card and the money is withdrawn and deposited into a checking account of choice. Anytime a business has access to a computer and the internet they can process credit cards. By logging on to MDS' website, credit card processing can be simple and easy.
Most seamstress and tailors are getting on board with accepting electronic payments. In fact, most customers prefer to use credit cards and avoid cash. Customers always look for the logos that say a business accepts credit cards. A business that does not accept electronic payments may be cutting their revenues. While it seems that MDS is providing benefits to the customer, the fact is MDS delivers a lot of benefits to the merchant as well. The ability to process credit cards is just the start to the many benefits that MDS can offer merchants.
Every business that has employees has to have a payroll system. Payroll processing can be difficult and can be perplexing for some individuals. There are many requirements and forms must be filed with local authorities and the IRS on a quarterly basis. Getting employee deductions and taxes correct can be confusing. MDS has a great payroll program to help their merchants. Using large payroll companies throughout the United States, MDS can bring help to their merchants. Let someone else handle the payroll and taxes, the first priorities are getting more customers and revenue. Payroll solutions are just one more way that MDS helps to make the merchant's life easier.
Every trade professional will deal with cash flow problems at some point and time. MDS offers a program called FAST CASH. Merchants can now easily obtain a cash advance. FAST CASH gives the merchant the ability to help meet exorbitant payroll expenses or to purchase supplies. Unlike obtaining a bank loan, getting a merchant cash advance is simple. MDS will base the amount of lending on previous credit card transactions. The money will be later withdrawn at a pre-arranged date. MDS cares about their merchants and offers them the tools they need to succeed in business.
Mobile payment options are the latest craze in the cellular phone industry. New apps allow merchants process payments by swiping credit cards through a reader attached to a smartphone. This technology does not need traditional credit card machines. This application is something that merchants are utilizing more each day. Technology is evolving and the businesses must stay one step ahead. Using HTML5, any smartphone with Apple or Android technology can use these mobile payment apps. Providing customers another payment options means more revenue for the business.
In a business, everything is centered on the POS system. In fact, it is one of the most valuable pieces of equipment in a store. Using POS Integration, merchants can have easy access to reporting, faster checkouts, and the ability to have all their systems in sync. Integration requires special equipment, which MDS can finance or rent to their merchant. A business owner will have invoicing solutions as well as providing their customers with a positive checkout experience.
These days, most companies have some sort of web presence. Those who are selling items online can benefit from a high tech e-commerce system. This allows people to pay bills online, purchase items they need and interact with the business. Using a sophisticated shopping cart feature linked to the merchant services account, a business can have a great user friendly set up. Having a great online system is a win-win for all who are involved. Customers flocked to user friendly sites and enjoy purchasing from a company they know is safe and secure and have the items they need.
There are many credit card processing companies on the market. Few offer the services and customer support of Merchant Data Systems. Businesses have enough on their mind with the failing economy and keeping their business afloat. MDS provides peace of mind and extra security for any company. Whether it is electronic check processing or payroll, with a simple touch of a button, the business owner can rest assured it is being handled properly. MDS offers the ability to have credit card terminals and so much more. MDS can help a company collect the revenues they need to stay in business.