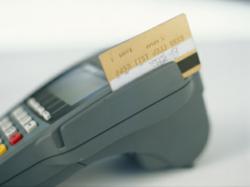 Chicago, Illinois (PRWEB) August 14, 2012
Merchant Data Systems, a leader in the industry of merchant services, has announced a team up with Karma Snack, a leader in online marketing and eCommerce services. The goal of the team up is to provide commercial clothing outfitters a new way to access merchant services.
Mens uniforms, women's uniforms, and children's uniforms are an ever growing industry. As more schools move towards uniforms for their students and employers take on the notion of employee dress codes, the industry is expanding exponentially. However, the stores that target this industry must compete amongst themselves for sales. The only way to come out on top is to provide the utmost in customer service and that often includes a need to accept credit cards. Merchant Data Systems has been in the business of credit card processing for years and has worked with multiple businesses to meet their credit card processing needs.
In order for a store to accept credit cards they must have credit card machines and credit card terminals on-site. In the past the application process was timely and expensive. Many stores made the decision to forgo credit card payments. However, times have changed and businesses must compete on the credit card stage. Thankfully, Merchant Data Systems is aware of these needs and has worked diligently to provide merchants with a quick application process, as well as the appropriate and necessary equipment. While MDS has led the industry in this fashion they are always looking to expand. They are always out to reach their merchants in new and exciting ways. When a business prospers MDS feels as if they prosper, too.
The team up between Merchant Data Systems and Karma Snack will allow the two to provide superior customer service to merchants. It has long been Merchant Data Systems' dream to provide small, medium, and large businesses with a one-stop shop for all of their merchant processing needs. For decades MDS has worked diligently to provide credit card processing solutions, POS integration, merchant cash advances, invoicing solutions, and payroll solutions to their consumers.
MDS expanded to include an eCommerce service pack to merchants who were interested in getting involved in the world of mobile payments and online shopping carts, but MDS knew they could be doing more. The team up with Karma Snack ensures that they are doing more for their customers and truly helping them to succeed in an increasingly competitive, business landscape.
An online footprint is increasingly important in today's business world. The demographic coming of age in today's world spends much of their time on the internet. According to studies the average internet user is online for 13 hours a week. A portion of those 13 hours are spent shopping and perusing company websites for the purpose of informed purchase making. Many of those users search for commercial clothing outfitters that they have to purchase their work attire from. Not having an online site to inform customers of inventory is a faux pas in today's industry and could lead to profit losses. Merchant Data Systems knows these facts and works with merchants to bring their businesses online and up to speed. That is what the pairing with Karma Snack is all about.
Karma Snack has been a leader in the world of online marketing and branding. The professionals at Karma Snack are aware of the importance of providing customers with an online presence. Through hard work, research, and diligence the team at Karma Snack has put many companies on the map with an impressive and expansive online footprint.
Merchant Data Systems is pleased to have the great minds of Karma Snack working with their customers to provide a truly comprehensive merchant services package. Merchant Data Systems and Karma Snack are both innovative service providers who know the serious importance of staying ahead of the curve. Together they are working to provide men's uniform outfitters with service packs that will reach their consumers. The team is also fully capable of reaching specific demographics through intensive market research and targeted eCommerce programs. Women's uniforms and children's uniform stores could both greatly benefit from the services provided by Merchant Data Systems with their new expanse of service packages.
Merchant Data Systems is constantly expanding and adding innovative and convenient service packages to their repertoire. The company has expanded several times in the last several years; they have added new regions and services to their esteemed list of achievements. They, however, are not satisfied with what they are offering just yet and are constantly making strides to serve more merchants, in more locations, with even better service packages.
Be on the lookout for Merchant Data Systems' future advancements. Together with Karma Snack, the company is looking to provide the best services possible to the most amount of merchants.