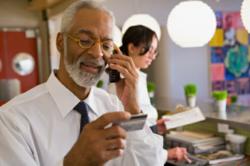 Milwaukee, WI (PRWEB) April 15, 2012
Merchant Data Systems (MDS) is expanding their services for businesses in the state of Wisconsin. Always on the forefront of what today's businesses are looking for in a merchant account, MDS continues to add the services and features that make doing business in an evolving marketplace easier.
As new technologies are developed, business owners seek ways to tap into those technologies so that they can improve profit margins, reduce expenses, and maximize efficiency and MDS is working hard behind the scenes to help businesses reach all of these goals and more.
Among the new developments MDS has unveiled is mobile credit card processing. Merchants can use their smart phone as a wireless credit card terminal. This technology is secure and compliant with PCI regulations. This means that Wisconsin merchants can process payments from customers on the go without having to take along unwieldy credit card machines.
MDS has partnered with Karma Snack to expand their capabilities even further. Among the benefits of this new partnership, Wisconsin merchant services now offered by MDS also include mobile SEO. This is a much requested feature that makes it clear why MDS is such a popular payment gateway. Mobile SEO ensures that smart phone users can find the e-commerce sites they want the way traditional SEO helps desktop users find resources on the web.
Wisconsin businesses that want to accept credit cards will also be interested to learn that MDS offers merchant cash advance which is a popular feature. So often, credit card processing companies make it hard for businesses to tap money received, MDS is different. Their cash advance service is just one way that MDS demonstrates these differences.
For businesses that operate online--whether that's in addition to a brick and mortar location or instead of one--MDS offers an online merchant account service. Many banks see e-commerce sites as high-risk and avoid giving them accounts altogether but MDS is a partner for forward-thinking businesses including those who operate mostly or exclusively on the internet.
Businesses in the state of Wisconsin seeking online merchant accounts will do well to consider MDS because of the breadth of the services offered and their dedicated approach to staying on the cutting edge of technology. By continuing to upgrade their services and constantly integrating new technologies into their offerings, MDS makes it easy for businesses to get the most out of their credit card merchant accounts.
Merchant Data Systems complies with Payment Card Industry standards, also known PCI-DSS. PCI Compliance is a way to make sure for security purposes that the customers payments are secure and only intended for the customer and the company that is facilitating the transaction.
Credit card processing is a requirement for nearly every business today. Fortunately there are companies like MDS who go above and beyond the basics to deliver cutting edge merchant account services so that no business has to settle for just the essentials--rather every business in Wisconsin can have the advanced services that make getting paid by credit card simple.