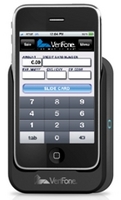 Now mobile merchants and sales forces can accept credit cards at lower cost and with greater security
Medford, OR (PRWEB) February 11, 2010
Mobile merchants and remote sales forces have new options for taking credit cards more securely and at lower costs. Merchant360 is on one of the first to offer VeriFone's PayWare Mobile for free with 2 year contract or for sale without commitment.
Merchant360, Inc. a premier provider of point of sale solutions including hardware, software, and services announces the availability of VeriFone, Inc.s; PayWare Mobile hardware and gateway services through their online store. The device attaches to an iPhone and allows merchants to swipe and accept credit cards wherever they are.
VeriFone announced the release of the PayWare Mobile solution last week (2/2/2010) and people can now download the application to their iPhone from Apple's Inc. App Store but they still need to get a merchant account, Mobile Gateway account, support and directions on how to use the solution. "It's not all that easy to get started, the first time I downloaded the application it took me awhile to figure out what was missing, so we made it easier and faster for a merchant to start swiping cards" says Steve McRae, CEO of Merchant360.
"PayWare Mobile offers greater security in a rugged handheld and lower transaction rate for merchants when they swipe a card and collect a signature, that's much better than just entering a credit card into the your phone; we offer that too with an authorize.net account on a windows mobile and blackberry but this is definitely an upgrade" says Steve McRae, CEO of Merchant360.
Merchant360 has also developed and released its own mobile credit card application called MobiTranz that works with Authorize.net to give merchants options depending on how they plan to use the solution. With MobiTranz merchants can also get a customer relationship management system that supports loyalty and SMS surveys. Some of the core target users for mobile point of sale will not qualify for a merchant account so Merchant360 offers a service for those merchants, same as an ecommerce transaction that allows them to still accept credit cards.
About Merchant360, Inc.
Merchant360, Inc. is a global leader in point of sale applications development, sales, and support. Merchant360 makes POS easy to buy sell and manage with turnkey and customizable solutions and hosted services to support payments, loyalty, ticketing, and access control. Merchant360 sells mobile payments and loyalty solutions including mobile contactless eGrips, contactless skins, and active posters through its mobifyer division. http://www.Merchant360.net
Contact: Jennifer Hoppe, JHoppe(at)Merchant360(dot)net, 1-866-998-5252
###