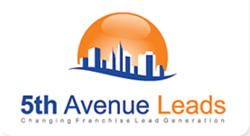 We sift through the inquiries for you to find the Best Franchise Sales Leads that there is to offer so you have the satisfaction of knowing that your company's time and resources are being put to the best use
Naples, FL (PRWEB) March 05, 2014
5th Avenue Leads, one of the principal lead generation organizations in the United States, recently announced its decision to move its worldwide headquarters to Naples, Florida. The company is wholly committed to finding the best quality franchise candidates, and to date, it has discovered over 200,000 franchise contenders.
To achieve this milestone, 5th Avenue Leads depended on GEO targeted leads. Clients who use this no-charge service will always find franchisee candidates that match their geographic locations. 5th Avenue Leads also worked with their customers to generate client profiles, ensuring that they were always matched with franchise candidates that fit their ideal standards. The combination of GEO targeted leads and client profiles means that customers will always receive the best leads and meet franchise candidates that meet their standards.
"5th Avenue Leads, like Mercury Road, uses our proprietary technology coupled with unrivaled process management to ensure that the candidates we deliver are serious about their inquiry, qualified to act, and ready to talk to our franchisors and franchise broker clients," stated an article n the company's website. The article also noted that although the company receives many leads through its sources, it only focuses on the best-quality leads.
"We sift through the inquiries for you to find the Best Franchise Sales Leads that there is to offer so you have the satisfaction of knowing that your company's time and resources are being put to the best use."
The 5th Avenue Leads team is dedicated to helping its clients make perfect matches. 5th Avenue Leads' staff call verifies that each candidate meets the franchise offering's minimum liquid capital and net worth requirements. Any candidate that is found to be an unsuitable match—for example, there are geographical, financial, or interest conflicts—is not passed on, and the client does not pay for the lead.
Individuals interested in learning more about 5th Avenue Leads and its range of services can visit the company's website or Natalie Nutter Leads for more information.
About 5th Avenue Leads:
5th Avenue Leads is one of the top franchise lead generation organizations in the USA. Since the company identifies and delivers only the most dependable franchise candidates, clients can always be sure that spending their lead-purchasing dollars will result in the best return on investment possible. 5th Avenue Leads' advanced technology and dependable processes weeds through all franchise sales leads on behalf of their clients. For more information, please visit http://www.5thavenueleads.com