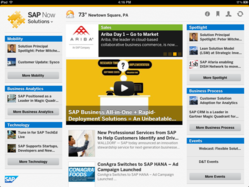 Talaria was developed to fulfill the fundamental need of every organization to communicate with its audiences through mobile devices
Nashville, Tenn. (PRWEB) January 08, 2013
Mercury Intermedia today announced its Talaria™ Mobile Content Delivery Platform is now integrated with SAP's mobile technology. Talaria was engineered to help organizations adapt to mobile audiences, as their users, once willing to seek out web sites for information, have gone mobile and expect news and information to be delivered directly to their mobile devices via native apps, when it happens, wherever they are. And that's exactly what Talaria now optimized for integration with SAP® solutions does; it delivers content instantly, when it happens. Never before have organizations had a faster or more direct path to communicate with multiple mobile audiences simultaneously and never has an executive had a better tool for communicating to his or her field sales force, partner community, and employees.
"Talaria was developed to fulfill the fundamental need of every organization to communicate with its audiences through mobile devices," said Bill Tallent, CEO of Mercury. "Through this new integration with SAP solutions, we can quickly introduce enterprise, higher education and commercial media organizations to the value of an engaging mobile communications platform."
Mercury created Talaria by capitalizing on its extensive experience building top-ranked mobile news and information platforms for some of the world's biggest media companies, including USA TODAY, Comcast, CNN, Fox News, and The Washington Post.
"Talaria Mobile Content Delivery Platform integrated with SAP solutions underscores SAP's successful ecosystem strategy, through which we can offer customers expanded choices, including ways to help them mobilize their organizations," said Dan Mahowald, national vice president, Unwired North America, SAP. "We believe these solutions will be attractive to customers, to help them better engage with both their internal audiences such as sales staff and employees, and their external audiences such as customers, distributors, and ecosystem partners. The solutions help communicate messaging, improve loyalty, inform employees, and align the organization around strategic initiatives."
Talaria is a platform that combines a content engine with configurable native applications. The content engine aggregates, conditions, stores and serves user-specific content to the applications. The application for iPhones and iPads displays portal-type content with the kind of extraordinary user experiences that encourages frequent and extended visits to the application, yet can be deployed in as little as 60 days. The platform is battle tested, with over 40 billion stories served annually with a demonstrated 99.95 percent uptime over the last three years. Since Talaria stands between organizations and their audiences' mobile devices, the host organization is also insulated from potential mobile security threats.
Talaria is available in multiple purchase options, including licensed, hosted, or full Software-as-a-Service (SaaS) packages that fit a customer's current and future IT infrastructure. With complete, built-in reporting, analytics, personalization and advertising capabilities, Talaria has everything necessary for organizations to manage and refine their information and news communications in a highly efficient and affordable manner. For more information, go to http://talaria.io.
About Mercury Intermedia
Mercury Intermedia builds strategic, mission-critical mobile applications and platforms for major commercial media, enterprise and higher education institutions. Clients such as The New York Times, CNN, Fox News, Comcast, University of Mississippi, and Showtime have relied on Mercury to create top-rated mobile user experiences for iOS, Android, Windows8, Google TV, Fire and Nook devices. Experts in both the art and science of mobile, Mercury's engaging apps have been downloaded over 60 million times and consistently rank #1 in app stores and achieve 4+ star reviews. Powering these apps is Mercury's battle-tested M3 engine which serves over 40 billion stories each year. Founded in 2005, Mercury is headquartered in Nashville, TN. For more information, visit http://mercury.io.
###
SAP and all SAP logos are trademarks or registered trademarks of SAP AG in Germany and in several other countries.
All other product and service names mentioned are the trademarks of their respective companies.
SAP Forward-looking Statement
Any statements contained in this document that are not historical facts are forward-looking statements as defined in the U.S. Private Securities Litigation Reform Act of 1995. Words such as "anticipate," "believe," "estimate," "expect," "forecast," "intend," "may," "plan," "project," "predict," "should" and "will" and similar expressions as they relate to SAP are intended to identify such forward-looking statements. SAP undertakes no obligation to publicly update or revise any forward-looking statements. All forward-looking statements are subject to various risks and uncertainties that could cause actual results to differ materially from expectations The factors that could affect SAP's future financial results are discussed more fully in SAP's filings with the U.S. Securities and Exchange Commission ("SEC"), including SAP's most recent Annual Report on Form 20-F filed with the SEC. Readers are cautioned not to place undue reliance on these forward-looking statements, which speak only as of their dates.
Media Contact:
Paul Stanley
Mercury
1 (615) 661-8868 x33
pstanley(at)mercury(dot)io