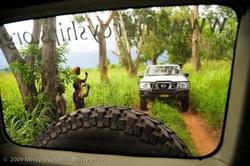 I could not be more pleased with the service of our multinational crew as they followed the 2,000 year old model of Jesus on a daily basis. The ship has departed, but our hearts will always have room for the wonderful people of Benin and their President who extended www.mercyships.org [Mercy Ships] an invitation to come and help.
Tenerife, Spain (Vocus) December 23, 2009
How do you measure hope? December marks the end of the 2009 Mercy Ships Field Service in Benin. Ten months of patient screening, back to back surgeries, and non-stop capacity building efforts; still one of the greatest terms of measurement is numbers. Due to the combined efforts of 454 crew members from over 40 nations and the support of our state-of-the-art hospital ship, the Africa Mercy, 97,625 total procedures were performed and 67,219 lives were impacted as direct beneficiaries of our state-of-the-art hospital ship.
As the Africa Mercy prepares for its 2010 Field Service in Togo, it leaves behind permanent footprints in Benin – footprints in the form of trained eye surgeons that are now fully trained in eye screening, cataract removal, and eye health. Not only can these physicians treat their communities but they are trained to teach other physicians long after the Africa Mercy is gone. The country of Benin will have healthier children ,due to the Mercy Ships partnerships with IMCI (Integrated Management of Childhood Illness) program that educates families on wound tending and cleaning, The Biomedical Training Program trained individuals to keep equipment fine-tuned and updated in each hospital so it runs as efficiently as it can, provided more access to health care with the opening of the OSAREH Orthopedic Clinic, and thanks to the Food For Life Program, the community will be better prepared to grow crops. and the dormitory constructed in the Hévié area outside of Cotonou that will now be the base for agricultural trainers trained by Mercy Ships that will continue training others well into the future.) These footprints will leave a lasting impact and the face of Benin will be changed but perhaps the most valuable measure of success can be found in the hope and healing the Africa Mercy has left in its wake.
Numbers alone do not take into consideration the hearts left behind. They do not tell of watching someone see their mother for the first time after a cataract surgery, or taking their first step because of an orthopedic procedure. Numbers do not explain the emotion you see a cleft palate patient smile instead of covering their face or a facial tumor patient eat and breathe easily because the tumor that blocked their throat is now gone. Mercy Ships successes are measured one life at a time.
"Although President YAYI Boni has brought great change to the West African nation of Benin, living in a nation where a worker earns less than 2 dollars a day, explains why life in Benin continues to be very difficult. When you have limited means, it is hard to feed, educate, and care for the health of your family. The 10 month Field Service conducted by our hospital ship, Africa Mercy, brought hope and healing to a nation where there is one hospital for every 1,000,000 people," reflects Don Stephens, Founder and President of Mercy Ships. "I could not be more pleased with the service of our multinational crew as they followed the 2,000 year old model of Jesus on a daily basis. The ship has departed, but our hearts will always have room for the wonderful people of Benin and their President who extended Mercy Ships an invitation to come and help."
About Mercy Ships: Mercy Ships uses hospital ships to deliver free, world-class health care services to those without access in the developing world. Founded in 1978 by Don and Deyon Stephens, Mercy Ships has worked in more than 70 countries providing services valued at more than $ 748 million, impacting more than 2.16 million direct beneficiaries. More than 1200 crew worldwide, representing more than 40 nations, are joined each year by 2000 short-term volunteers. Professionals including surgeons, dentists, nurses, health care trainers, teachers, cooks, seamen, engineers, and agriculturalists donate their time and skills to the effort. Mercy Ships seeks to become the face of love in action, bringing hope and healing to the poor. For more information click on http://www.mercyships.org
###