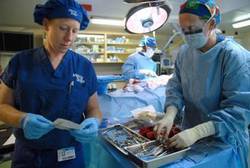 [Mercy Ships is] an outlet for the compassion, organization, and knowledge of nursing! Nursing – it's training for life!
Lomé, Togo (Vocus) May 12, 2010
Seven-year old Aissa suffers from a debilitating condition called Noma, a bacteria which has eaten away nearly one side of her face. Her parents abandoned her, and she was severely malnourished. Without intervention, she would die. Surgery was unavailable in her country, Cameroon in West Africa. Mercy Ships volunteer and British doctor-in-training, Abi Boys, set up funding for the little girl to travel to the Mercy Ship in Togo, West Africa, for a free surgery.
Ali Chandra, a 26-year-old R.N. from New Jersey, is a ward supervisor and one of about 15 nurses who have touched Aissa's life during her surgery and recovery onboard the hospital ship, the Africa Mercy. "There is something so incredible about watching a child transform , to go from fear to confidence, from anger to pure joy," says Ali, who has had a front row seat to witness Aissa's transformation during the first week of her recovery on the ward. Follow Aissa's story at http://alirae.net/blog/archives/389-healing.html.
Missy Brown, a member of the Association of PeriOperative Operating Room Nurses (AORN ) and an operating room team leader, is serving her second Field Service with Mercy Ships. As an OR nurse in Indiana, her experience, humble spirit, and work ethic are a perfect fit for the Africa Mercy. Watch as she retells why she has chosen this career at http://www.youtube.com/watch?v=q2jel01w_gg.
With 100 nursing positions at any given time onboard the world's largest non-governmental hospital ship, Mercy Ships requires approximately 750-800 nurses of all kinds to volunteer for a new 10 month field service in West African country each year. Some give two weeks to several months of service; others give years and call the ship their home. At present, there are 95 nurses onboard the Mercy Ship, representing 12 countries: Great Britain, USA, New Zealand, Australia, Netherlands, Germany, Switzerland, Ireland, Canada, Norway, South Africa, and Austria.
Deyon Stephens, who directs Mercy Ships Education, says, "Though my formal nursing education was long ago, nursing has proven to be a wonderful background for much of my life. In the late 70's, I moved with my husband and young children onboard the first Mercy Ship, where we lived for 10 years developing and operating a floating hospital for the poor. What an outlet for the compassion, organization, and knowledge of nursing! Nursing – it's training for life!"
ABOUT MERCY SHIPS:
Mercy Ships uses hospital ships to deliver free, world-class health care services to those without access in the developing world. Founded in 1978 by Don and Deyon Stephens, Mercy Ships has worked in more than 70 countries, providing services valued at more than $808 million, directly impacting more than 2.5 million beneficiaries. More than 1200 crew worldwide, representing more than 40 nations, are joined each year by 2000 short-term volunteers. Professionals including surgeons, dentists, nurses, health care trainers, teachers, cooks, seamen, engineers, and agriculturalists donate their time and skills to the effort. For more information or to make a donation, click on http://www.mercyships.org.
ABOUT INTERNATIONAL NURSES DAY:
International Nurses Day is celebrated around the world every May 12, the anniversary of Florence Nightingale's birth. The 2010 International Year of the Nurse also marks the centennial year of the death of the founder of modern nursing, Florence Nightingale (1820-1910). The International Year of the Nurse was established to involve the world's nurses (estimated at more than 15 million) in a celebration of commitment to bring health to their communities, locally and worldwide. Visit the website: http://www.2010iynurse.net/.
Mercy Ships contact information:
Kathy Gohmert - U.S. Public Relations
Tel: 903.939.7000 and 903.939.7019
Diane Rickard - International Public Relations
Director International Public Relations
Tel: +44 1438 727 800
# # #