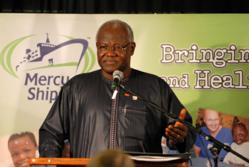 You have treated people with extreme difficulties. I know that as a nation that is committed to moving forward as a government, you have helped us to build up our capacity and provide a service. We thank you for what you have done
Freetown, Sierra Leone (PRWEB) June 02, 2011
Top government officials from the Republic of Sierra Leone toured the Mercy Ships flagship, the Africa Mercy, on Friday, May 27, 2011. President Dr. Ernest Bai Koroma, Vice President Samuel Sam-Sumana, and the Honorable Minister of Health and Sanitation, Mrs. Zainab Hawa Bangura received a warm reception from the 450 crew members serving onboard the hospital ship.
After being welcomed on the dock by Africa Mercy Managing Director Donovan Palmer, the dignitaries climbed the gangway and were greeted by members of Mercy Ships International Board of Directors.
The special guests were given a tour of the ship and the hospital wards. The dignitaries met several patients and learned about their life-changing surgeries first-hand. After the tour, a presentation was held in which Dr. Gary Parker showed before and after photos of patients treated onboard the Africa Mercy. The dramatic transformations moved President Koroma as he addressed the Mercy Ships board members and crew:
"You have given a lot of hope to a good number of our fellow Sierra Leoneans," said President Koroma. "You have treated people with extreme difficulties. I know that as a nation that is committed to moving forward as a government, you have helped us to build up our capacity and provide a service. We thank you for what you have done."
The President's visit to the Africa Mercy comes at the same time that Mercy Ships President/Founder, Don Stephens, was presented with a Diamond Award from The Embassy of the Republic of Sierra Leone in Washington, D.C. This prestigious award recognized his contribution to the development of Sierra Leone.
This is the fifth time that Mercy Ships has visited Sierra Leone. The country has made great strides to raise its level of health care, but it still ranks at the bottom of the 2010 United Nations Human Development Index (158 out of 169 countries). Mercy Ships has aligned its program offerings with the nation's five-year National Health Sector Strategic Plan (NHSSP). The key objective of the plan is to strengthen the functions of the national health system.
Since the ship's arrival in February 2011, Mercy Ships has performed over 750 surgeries, over 12,000 dental procedures, and trained over 500 individuals in either agriculture, mental health, or church leaders' training. Mercy Ships will conclude its 10-month Field Service in Sierra Leone in December 2011.
As the presentation came to a close, President Koroma's remarks to the crew showed a sincere appreciation for the work of Mercy Ships in Sierra Leone. "You have collaborated with us – worked very hard to help us provide smiles. You are willing to help people get back to a normal life. People who were not able to walk – they wobbled – they are now walking. It is a good gift to our country. On behalf of the government, once more, I thank the Director, the initiative and the leaders. God Bless you all."
ABOUT MERCY SHIPS: Mercy Ships uses hospital ships to deliver free, world-class health care services, capacity building and sustainable development to those without access in the developing world. Founded in 1978 by Don and Deyon Stephens, Mercy Ships has worked in more than 70 countries providing services valued at more than $834 million, impacting more than 2.9 million direct beneficiaries. Each year Mercy Ships has more than 1,200 volunteers from over 40 nations. Professionals including surgeons, dentists, nurses, health care trainers, teachers, cooks, seamen, engineers, and agriculturalists donate their time and skills to the effort. Mercy Ships seeks to become the face of love in action, bringing hope and healing to the poor. For more information click on http://www.mercyships.org
Contact Information
Claire Bufe, US Public Relations
903.939.7017
Photos by Liz Cantu and John Rolland
###