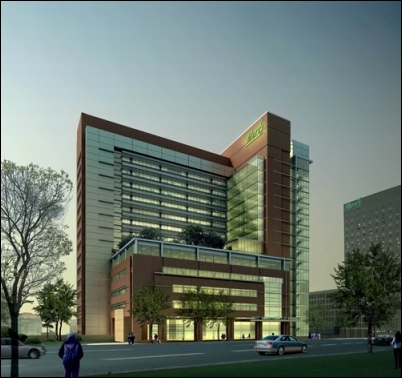 The current tower houses over 250 inpatient beds, but most patients have to share a room. Private rooms are now the standard of care because they reduce the risk of infection, medication errors and falls, and are simply more comfortable for patients
Baltimore City, MD (Vocus) June 26, 2007
Thomas R. Mullen, President and CEO of Mercy Health Services and Mercy Medical Center , on behalf of the Sisters of Mercy, has announced the hospital's plans to construct a state-of-the-art inpatient tower complex, bordered by St. Paul, Calvert, Orleans and Pleasant Streets.
On Thursday, June 21st, Mercy was granted its Certificate of Need, a regulatory process whereby healthcare providers obtain state approval for certain new or expanded services. Mercy also received approval for the tower's design from the Urban Design and Architecture Review Panel (UDARP), an advisory group that reviews architectural plans for major City projects.
"We are now ready to move forward with the project which will further strengthen the commitment of this institution and the Sisters of Mercy to downtown Baltimore for the next half-century," Mr. Mullen said.
Groundbreaking for the 18-story, 672,000 square-foot tower is scheduled for spring 2008 with completion by fall 2010. Construction will occur in phases; phase one will include the relocation of services such as maternal child health, radiology and space for growth at a cost of $292 million.
"Future phases will result in a complete outfitting of all floors at a cost of over $100 million, bringing the cost of the project when fully built out to about $400 million," Mullen said.
To complement the tower, a 1,300-space, stand-alone parking facility is already under construction at the corner of Pleasant and Davis Street and is expected to be complete by end of July and will open in August 2007.
"This announcement represents the culmination of a series of strategic plans for Mercy, from 1999 to today, focused on a primary goal--maximizing Mercy's presence in downtown Baltimore as a leading medical institution, to ensure delivery of quality care to the community for the long-term. During this time, we've witnessed the unveiling of the Center for Women's Health and Medicine, the opening of The Weinberg Center, and now our plans to construct a new inpatient tower. It is all part of a comprehensive redevelopment of the Mercy campus--Mercy is truly an urban success story," Mullen said.
The tower will be connected to the new parking garage and to the existing medical center by a series of bridges and tunnels to facilitate public, staff and materials transportation.
"Mercy's new tower will free space on Mercy's campus for adding new centers of excellence, physician offices and administrative support functions," Mullen said.
Citing a 2006 report prepared by The Jacob France Institute (Merrick School of Business, University of Baltimore), Mullen noted that upon completion, Mercy's new tower will mean more than $123 million in economic activity annually in Baltimore City, as well as nearly 1,000 jobs and $73 million in increased salaries and benefits.
Funding for the project will come from a variety of sources, including net income from hospital operations, bonds, and a capital campaign "on par with our last major fundraising effort which brought $43 million to Mercy for building our Weinberg Center," Mullen said.
The architectural firm of Ellerbe Becket will provide exterior and interior design, engineering, equipment planning and construction administration services. Since designing the first Mayo Clinic in 1912, Ellerbe Becket has completed new facilities and renovations for hundreds of hospitals and medical centers around the world.
The Whiting-Turner Contracting Company will provide construction services for the project. Headquartered in Baltimore, Whiting-Turner is one of the country's finest construction organizations, excelling at construction management, general contracting, design-build operations, and specialty work.
Consultants for the tower project include Whitman, Requardt and Associates, LLP (civil engineering), Mahan Rykiel Associates (landscape design), and Convergent Technologies (information technology).
Mercy's current Tower Building, the largest structure on the campus, was designed in the 1950s, long before the invention of most bedside monitoring equipment, privacy legislation an the recognition of family and friends as healing supports of patients. The Tower Building houses 12 operating rooms that have been renovated and expanded many times over the past 50 years, but are in need of replacement.
"The current tower houses over 250 inpatient beds, but most patients have to share a room. Private rooms are now the standard of care because they reduce the risk of infection, medication errors and falls, and are simply more comfortable for patients," Mullen said.
While the current inpatient tower provides 22 beds per floor, the new building will have 32 beds per floor, "and all of these will be private rooms. In addition, the new tower will have 15 state-of-the-art operating rooms, the smallest of which will still be larger than the largest OR we currently have," Mullen added.
"Our replacement tower project is another step forward in the implementation of Mercy's strategic plans for the entire campus. In the past year we have added a number of new centers staffed by nationally recognized physicians, like Dr. Armando Sardi and The Institute for Cancer Care," Mullen said.
Other recent developments including the opening of the new Maryland Spine Center, The Center for Restorative Therapies, and The Orthopedic Specialty Hospital at Mercy, the new Lung Center at Mercy, and the continued expansion of the hospital's Emergency Department.
Mercy Health Services' total revenues have grown from just under $190 million in fiscal year 1999 to more than $437 million in 2007. In the same time period, Mercy has seen its admissions and births rise almost 20 percent; the number of surgeries has jumped over 63 percent, and outpatient visits have risen 102 percent.
"Mercy has grown to become a regional medical institution with more than 43 percent of our patients coming from outside of Baltimore City. Anchoring the northern edge of the downtown business district, Mercy is the dominant presence with over 1.2 million square feet in space, from the Orleans viaduct to Lexington Street," Mullen said.
Mercy Medical Center is a 133-year-old, university affiliated medical facility founded by the Sisters of Mercy. Mercy is home to the nationally acclaimed Weinberg Center for Women's Health and Medicine. For more information, visit Mercy online at http://www.mdmercy.com or call 1-800-M.D.-Mercy.
EDITOR'S NOTE: Media interested in obtain a copy of Mr. Mullen's powerpoint presentation, "Mercy Health Services: A Continued Success Story," including an overview of Mercy's growth and details relative to the new tower project; a copy of the rendering of the tower, and of the Jacob France Institute May 2006 report of Mercy's contribution to the economic vitality of Baltimore City, should contact Dan Collins at 410-332-9714, dcollins@mdmercy.com.
CONTACT:
Dan Collins
410-332-9714
# # #