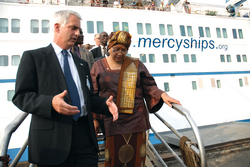 has been improved by its term of service in Liberia
Monrovia Liberia (Vocus) December 17, 2008
The Africa Mercy pulled out of the Free Port of Monrovia, Liberia, this past weekend, wrapping up four years of assistance by Mercy Ships in the rebuilding of Liberia's infrastructure. The first visit of a Mercy Ship to the nation was in 2005 at the invitation of the United Nations, prior to free elections.
President Johnson Sirleaf and Vice President and Mrs. Boakai visited the ship prior to departure to thank the crew, to acknowledge the investment made by Mercy Ships and to pledge that progress will be continued.
"What we have seen, what we have experienced, what we have benefited from, is beyond what I could speak to," stated President Johnson Sirleaf. "We can only commit to you that we will try to ensure that what you started will be carried on, so it can forever be remembered that this came from a partner who brought resources, but also the caring," she added.
Over the past four years, Mercy Ships volunteer professionals offered free, specialized curative surgical intervention, health care infrastructure developmental assistance, and community based preventive health care programs benefiting thousands of individuals and many communities as the nation continues to recover from 14 years of conflict.
"We've made a significant impact on the surgical backlog from Liberia's civil war during our four years there. Our volunteer crew has helped to establish a strong health care infrastructure that will allow the country to flourish in the future," said Mercy Ships Founder/President Don Stephens.
"The mission of the charity to provide free world-class medical services to the "forgotten poor" has been improved by its term of service in Liberia," Stephens added.
Over the past four years, Mercy Ships professional volunteers provided nearly 3,000 reconstructive /plastics and general surgeries; saw more than 16,348 dental patients, trained 33 individuals in oral health to train others and 3 dental assistants; saw over 35,042 eye patients with 3,523 corrective surgeries, and trained two Liberian surgeons and eight eye workers; provided 401 surgeries for women needing VVF/gynecological repairs while training seven surgeons and six obstetric nurses, and provided 289 orthopaedic surgeries. Two clinics, a school, and demonstration farm were constructed, aspects of the city water supply repaired, wells and latrines dug and rehabilitated in many communities.
During the final 10 months, additional training programs were run for biomedical technicians, anesthesiologists, administrators, strategic health care workers, palliative caregivers, pastoral and mental health workers in the country. Wings of the JFK Medical Center were renovated, and a ship's dentist and team have stayed behind to continue training in a purpose built dental clinic.
Referring to the collaboration between Mercy Ships and the Liberian government over the past four years, President Sirleaf noted, "You've touched the lives of Liberians who could not be reached by their own government because of the lack of resources--human, financial, technical."
She went on to say, "We have lots of partners--bilateral, multilateral, private partners. And many of them have so many more resources to give us. But it's not so much the size of the assistance, the magnitude of the resources. It is what comes with it. Whom it touches, whom it reaches, whom it changes, that is what true partnership is all about."
According to the President's speech, thirty years ago Liberia was known to have one of the best referral hospitals in the West African sub-region, with hospitals, clinics, and services in all 15 counties. Years of turmoil had reduced those services down to one doctor to 61,000 persons, she noted, thanking Mercy Ships for their help to address that imbalance.
The Mercy Ship heads to Tenerife for yearly maintenance, survey, and repair, and to restock before sailing in February for 10 months of service in the port of Cotonou, Benin.
For further information, contact:
Pauline Rick
U.S. Public Relations Manager
Mercy Ships
Phone: 903-939-7649
E-mail: rickp@mercyships.org
http://www.mercyships.org
Diane Rickard, Director Media Relations
Mercy Ships International
Phone: 44. 1438.727 800
E-mail: rickardd@mercyships.org
http://www.mercyships.org
Broadcast video of President Sirleaf's speech onboard the Africa Mercy, hi-res photos and general Mercy Ships footage are available for download with registration at http://www.mercyshipsnews.org or upon request.
###