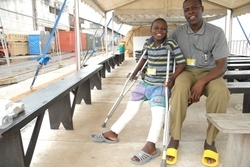 Kouego's unwavering love and encouragement outweighed the stares and insults of others, enabling Abel to maintain his joyful attitude
Lome, Togo, West Africa (Vocus) June 18, 2010
Thanks to Mercy Ships, Abel Dalome, disfigured for 11 years, will walk home a different way. His legs will be in front of him instead of behind him. His father's dream is now a reality thanks to the 474 volunteer hospital ship docked in Lomé.
Kouego Dalome is a taxi driver in West Africa, he is definitely not a wealthy man. But he is rich in things that cannot be measured in terms of money. He is rich in love for his children, and he is an outstanding mentor for them. His serenity, fortitude, and calm presence are a source of strength, particularly for Abel, his firstborn son.
Abel is a handsome, personable eleven-year-old boy with a joyous spirit and a smile that touches your heart and lights up a room. He is active and curious, interested in everything around him. Anyone would be thrilled to have a son like him.
But people do not really see Abel and his wonderful charm … they only see his deformity. When he was a baby, he developed a severe problem that caused his legs to bend backward at the knee, forcing his upper thighs out behind him. Kouego took his son to three different doctors, but not one of them could offer a solution to the problem.
So, for almost a decade, father and son lived with this terrible problem. Kouego helped Abel make the best of it by not treating it as a problem at all. Kouego's unwavering love and encouragement outweighed the stares and insults of others, enabling Abel to maintain his joyful attitude.
Miraculously, Abel learned to walk and do almost anything any other boy could do. He even played as the goalkeeper on a soccer team. Unfortunately, his startling appearance often made him the object of ridicule and insulting remarks – sometimes even beatings from other children.
Through all the unpleasantness, Kouego was Abel's rock – the strong center of his world. Kouego taught his son not to respond in bitterness or revenge. Abel learned to meet intolerance with tolerance. And he does it with a brilliant smile – a smile much like his dad's.
Then friends told Kouego that a big white hospital ship had come to Togo. Mercy Ships operates the world's largest nongovernmental hospital ship and provides free surgeries to people in countries without adequate health care. Abel and his father travelled many miles by motorbike and car to reach the Africa Mercy, desperately hoping that the volunteer surgeons could straighten Abel's legs. Their long journey was rewarded when Abel received the precious appointment card for orthopaedic surgery on both legs. Mercy was definitely on its way!
The medical process was intricate and long. A surgery on the left leg was followed a few days later by a surgery on the right leg. Next came many days of shuttling to and from the post- operative care unit to the ship for follow-up care. About eight weeks later a third procedure was done – plastic surgery on his knees. A slight infection cost another week; then came the therapy sessions to retrain the leg muscles to work normally.
Through it all, Kouego stayed beside his son. With gentle and loving patience, he encouraged and supported him. He slept on a mattress under Abel's bed in the ward, and next to him at the Hospitality Center. There must have been times when he was weary of sitting and waiting – but he never gave any sign of fatigue. With good humor, he was always ready to do whatever was next on the agenda to "straight legs" for Abel.
This week Kouego and Abel are leaving the Africa Mercy to make the long journey north to their village. It is a time of great joy because a wonderful father is taking his son home – a son who has beautiful, straight legs.
ABOUT MERCY SHIPS:
Mercy Ships uses hospital ships to deliver free, world-class health care services to those without access in the developing world. Founded in 1978 by Don and Deyon Stephens, Mercy Ships has worked in more than 70 countries, providing services valued at more than $808 million, directly impacting more than 2.5 million beneficiaries. More than 1200 crew worldwide, representing more than 40 nations, are joined each year by 2000 short-term volunteers. Professionals including surgeons, dentists, nurses, health care trainers, teachers, cooks, seamen, engineers, and agriculturalists donate their time and skills to the effort. For more information or to make a donation, click on http://www.mercyships.org
Story by Elaine Winn
Edited by Nancy Predaina
Photos by Liz Cantu
Contact Information
US Public Relations
903.939.7019
###