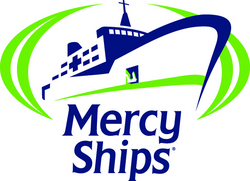 I accepted the position as Managing Director because Mae and I love to help the poor and needy.
Garden Valley, Texas (Vocus) November 16, 2010
Did you know that volunteering has benefits far beyond what you can imagine? "The Health Benefits of Volunteering: A Review of Recent Research" is a study done by the Corporation for National and Community Service. The research found a significant connection between volunteering and good health. The report shows that volunteers have greater longevity, higher functional ability, lower rates of depression and less incidence of heart disease. This is superb news for Mercy Ships, an organization that operates a hospital ship staffed with a volunteer crew.
One Mercy Ships family from Montrose, Colorado, is definitely reaping these benefits. Donovan Palmer, his wife Mae, and their three children live and volunteer together in West Africa. Their home is the Africa Mercy, a hospital ship that provides free medical care to the forgotten poor. Today, on National Family Volunteer Day, Mercy Ships would like to recognize the Palmer family as a remarkable example of a volunteer family who has sacrificed much to help those who have very little.
Mercy Ships brings hope and healing to some of the poorest countries in the world. Volunteer crew members work together to provide life-changing surgeries, surgical training, and infrastructure development to West African countries. These free services are offered without regard to a patient's age, ethnicity or religion.
Donovan Palmer has the monumental job of managing the day-to-day operations of the ship – a job that, despite its pressures, is extremely rewarding. He truly is the face of Mercy Ships when the vessel is in port, interacting with dignitaries and government officials by giving tours and hosting events. Why did he accept such a demanding job? He explains, "I accepted the position as Managing Director because Mae and I love to help the poor and needy."
The Palmers were involved with Mercy Ships in Newcastle, UK when the organization acquired the Africa Mercy and converted it from a Danish rail ferry into a state-of-the-art hospital ship. Then they spent five years with Youth with a Mission in the United Kingdom before re-joining Mercy Ships.
Donovan and Mae are a husband/wife team in every way. Mae serves as her husband's executive assistant. She runs his office and provides invaluable skills helping Donovan lead a multi-cultural community representing more than 30 nations onboard the ship.
Volunteering is absolutely a family affair for the Palmers. They have made a life out of serving the poor, which included making the decision to raise their children abroad. The kids attend school at the accredited Academy housed on the ship. Though the family is far away from home, Palmer notes that his children have "made many wonderful memories and have enjoyed being in West Africa experiencing other cultures." Undoubtedly, they are receiving an invaluable multicultural education, both on and off the ship.
Volunteering comes in many forms. Not all of us can uproot our lives to move to Africa, but we can find a way to help others. Mercy Ships offers many ways to get involved. They offer short-term mission trips to impoverished countries across the world. You can also help through financial gifts and prayer. You can even get your church family involved in the Mercy Ships Anchor Church program.
On this Family Volunteer Day take your spouse, parent, sibling, son or daughter by the hand – and together find a way to show mercy to someone in need. The rewards and benefits will far outweigh the effort or cost.
Take a virtual tour of our hospital ship and get a glimpse into what life is like onboard!
ABOUT NATIONAL FAMILY VOLUNTEER DAY: This annual day of service, held the Saturday before Thanksgiving, is designed to demonstrate the power of families who choose to volunteer together to support the communities in which they live and serve. Volunteering as a family provides quality time for busy families, strengthens communication and bonds, and positively impacts local communities across the nation.
ABOUT MERCY SHIPS: Mercy Ships uses hospital ships to deliver free, world-class health care services to those without access in the developing world. Founded in 1978 by Don and Deyon Stephens, Mercy Ships has worked in more than 70 countries providing services valued at more than $808 million, impacting more than 2.5 million direct beneficiaries. Each year Mercy Ships has over 1,200 volunteers from over 40 nations. Professionals including surgeons, dentists, nurses, health care trainers, teachers, cooks, seamen, engineers, and agriculturalists donate their time and skills to the effort. Mercy Ships seeks to become the face of love in action, bringing hope and healing to the poor. For more information click on http://www.mercyships.org
Contact Information
Kathy Gohmert
US Public Relations
kathy(dot)gohmert(at)mercyships(dot)org
903.939.7019
Hi-res photos and general Mercy Ships video footage are available upon request.
# # #