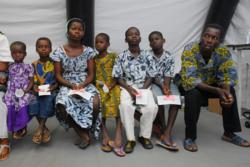 Congenital cataracts don't affect patients for just a few years – they affect patients for a lifetime.
Garden Valley, TX (PRWEB) August 21, 2012
Every August, Cataract Awareness Month focuses attention on a common, but curable, eye problem – cataracts. A cataract is a thickening or clouding of the lens of the eye which causes vision loss and, if uncorrected, blindness.
While cataracts are typically a condition that affects older people, hundreds of thousands of babies are born every year with cataracts in one or both eyes. The prevalence of congenital cataracts in developing countries is ten times more common than in developed nations. Limited or no access to medical treatment means that many struggle with poor vision or blindness. In fact, the World Health Organization reports that 80% of visual impairment is avoidable or curable.
Since 1978, Mercy Ships has used hospital ships to deliver world-class medical care to developing countries with limited available medical care. Recently, the lives of five children (four siblings and a cousin) were transformed onboard the Mercy Ships flagship, the Africa Mercy, when it was docked in the West African port city of Lomé, Togo. All of the children had been blinded by cataracts since birth. Today, all five can see, thanks to free cataract surgeries performed on the hospital ship.
"Congenital cataracts occur in the U.S., but they're rare," says ophthalmologist Dr. Glenn Strauss, who performed the surgeries on four of the five children. "And congenital cataracts don't affect patients for just a few years – they affect patients for a lifetime."
The five children, who ranged in age from 6 to 15 years, live with their extended family on a farm on the outskirts of Lomé, Togo. Their lives were greatly limited by their blindness. Unable to attend school, their days were spent performing tedious farm tasks that didn't require them to move around very much.
The children's mother and their uncle brought them to the hospital ship for medical evaluation. "With this family, it happened that they would all have a good chance of success with surgery," says Dr. Strauss. "It's very rare to be able to help an entire family."
The examination also revealed that several of the children were ill with malaria, requiring a regimen of drug treatment for several days. Because of the delays for this treatment, the children's cataract surgeries were scheduled over the course of a week.
During four of the five surgeries, Dr. Strauss was assisted by Togolese eye surgeon Dr. Abram Wodome, who had earlier received training in cataract surgeries for adults but needed additional training for the more complicated process of removing children's cataracts. Then, with Dr. Strauss at his side, Dr. Wodome performed the fifth surgery.
The six-year-old boy was the first to receive surgery. The next morning, as soon as his eye bandages were removed, he reached out for his siblings and helped care for them. Next, two more of the children received surgeries and had their bandages removed the next morning. Again, the ones who could now see helped to care for the others.
"They have always had each other, even though they were blind," explains their mother.
When the eye bandages were all removed, the doctors could see the results of their handiwork. In addition to instruments, Dr. Strauss used toys to help test the children's vision. "They'd see balloons coming toward them and grab at them," he says. "I used a tiny little star that I put in my hand and told them to grab it, and they reached right out and grabbed the star, which was outstanding."
After the successful surgeries, instruction was given to the mother for the follow-up care, which involved administering eye drops to each child every three or four hours.
A week later, the children returned to the ship for a post-operative visit. Every child passed the eye tests with flying colors, and the medical staff broke into cheers.
"I am so happy for the children and so thankful that they can now see," says their mother.
For Dr. Strauss, the opportunity to restore sight to five children in a single family was a tremendous experience. "To offer something like this to any child is marvelous, but then when you can do this for a whole family, think about the impact that's going to have," he says.
The following volunteer positions are currently available for the 2012 Field Service:
Eye Teams: http://www.mercyships.org/positions/c/dental-rehab-and-eye-teams
For more information contact a Mercy Ships Recruiter at 903-939-7000 or email jobs(at)mercyships(dot)org
ABOUT CATARACT AWARENESS MONTH:
August is Cataract Awareness Month, and the American Academy of Ophthalmology encourages people to know their risk factors for cataract, especially diabetes, smoking, or a family history of cataract. Use UV-rated sunglasses when outdoors and add a wide-brimmed hat when spending long hours in the midday sun. One of the best things anyone can do for their eyes and overall health is to quit smoking or never start. People with diabetes can reduce cataract risk by carefully controlling their blood sugar through diet, exercise and medications if needed. The Foundation of the American Academy of Ophthalmology recommends that adults with no signs or risk factors for eye disease get a baseline screening exam at age 40—the time when early signs of disease and vision changes may start to occur.
ABOUT MERCY SHIPS:
Mercy Ships uses hospital ships to deliver free, world-class health care services, capacity building and sustainable development to those without access in the developing world. Founded in 1978 by Don and Deyon Stephens, Mercy Ships has worked in more than 70 countries providing services valued at more than $1 billion, impacting more than 2.35 million direct beneficiaries. Each year Mercy Ships has more than 1,200 volunteers from over 40 nations. Professionals including surgeons, dentists, nurses, health care trainers, teachers, cooks, seamen, engineers, and agriculturalists donate their time and skills to the effort. Mercy Ships seeks to become the face of love in action, bringing hope and healing to the poor. For more information click on http://www.mercyships.org or contact Mercy Ships Public Relations at us(dot)media(at)mercyships(dot)org or 903-939-7000.
CONTACT:
Diane Rickard, Mercy Ships
us(dot)media(at)mercyships(dot)org
Helen Daly, Mercy Ships
dalyhe(at)mercyships(dot)org
972-395-9095
# # #