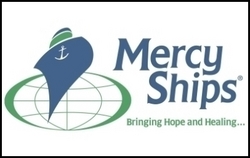 I know you, Mercy Ships! Don, thank you for the work that Mercy Ships is doing for the people of Liberia. President Ellen has told me of the wonderful work you are doing for the Liberian people.
Garden Valley, TX (Vocus) February 23, 2008
As American President George W. Bush and First Lady Laura Bush wrapped up their six-day tour of Africa with a visit to Liberia today, Mercy Ships volunteer doctors from around the world began the first of several thousand surgeries onboard the Africa Mercy in the Port of Monrovia, just minutes away from the festivities.
Among a group of well over one hundred guests privileged to participate in the state visit were Mercy Ships Founders, Don and Deyon Stephens, accompanied by the Africa Mercy Executive Director, Solfrid Quist. The President and First Lady were the special guests at a luncheon served on the lawn of the Executive Mansion by Liberian President Ellen Johnson Sirleaf.
During the luncheon, President Sirleaf made a point to acknowledge the work of Mercy Ships whose International Operations Center is in the President's home state of Texas. President Bush, upon learning of the Stephens presence in the audience, signaled Don Stephens to the dais where he stated: "I know you, Mercy Ships! Don, thank you for the work that Mercy Ships is doing for the people of Liberia. President Ellen has told me of the wonderful work you are doing for the Liberian people."
The Africa Mercy, the largest non-governmental hospital ship in the world, arrived back in Liberia earlier this month following its inaugural outreach to the war-torn country last year. A mass medical screening was held this past Monday at the Samuel Kanyon Doe Stadium in preparation for admissions that begin on Wednesday. Over one thousand people arrived in the early hours of the morning, clinging to the hope that Mercy Ships professional volunteers could help them recover from illness and injuries.
Tuesday, President Ellen Johnson Sirleaf paid a visit to the ship and offered these remarks to the crew: "You could have used your resources for your own comfort, but you decided to give. And so, we honor you for that. There are many of you in this room who serve: the captain, the doctors, all of those who work on the ship; volunteers give their time to be able to come way across the ocean to serve people they don't know. To be able to care for them and to make them whole again and to give them a life again…that's something that can only come from one whose heart is touched by the life of Jesus."
This year's field service will see Mercy Ships building on the success of its previous visits to Liberia by increasing training/mentoring aspects to local medical and construction personnel, in addition to providing the free surgeries onboard. This additional focus falls in direct line with the Mercy Ships organizational goal of providing a Regional Health Strategy to the people of West Africa.
President Ellen Johnson Sirleaf, the first democratically-elected woman to lead an African nation, also made mention of the outstanding work of Mercy Ships during a recent Annual Address to the National Legislature, saying: "I am delighted that Mercy Ships has chosen to celebrate its 30th anniversary year by helping the people of Liberia. We are working hard to rebuild our country, but it takes time, and without Mercy Ships thousands of Liberians would still be waiting for essential medical care and for clean water. Mercy Ships support is invaluable, and the millions of people who have benefitted from their generosity over the years are a lasting legacy."
Mercy Ships is the leader in using hospital ships to deliver free, world-class health care services to the forgotten poor. Founded in 1978 by Don and Deyon Stephens, Mercy Ships has directly impacted over 1.9 million beneficiaries, with a value of $670 million. Some of the more notable achievements include: treating over 212,000 people in village medical clinics, performing 32,500 surgeries, 183,000 dental treatments and completing more than 900 construction and agriculture projects. Each year more than 1,600 short-term volunteers serve with Mercy Ships.
For further information contact:
Mercy Ships
Pauline Rick - U.S. Media Relations, rickp (at) mercyships.org
Diane Rickard – International Media Relations, rickardd (at) mercyships.org
Phone: 1-800-772-SHIP or (903) 939-7649
URL: http://www.mercyships.org
###