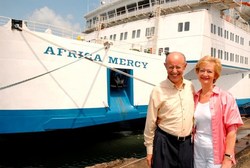 We are grateful for Professor Van Beers' faithful and formative role in the early years of Mercy Ships Netherlands and for his effort towards the launch the Africa Mercy into service and will miss him
Rotterdam, The Netherlands (Vocus) June 9, 2008
Paul Nouwen was installed last week as the new board chairman for Mercy Ships Netherlands. Mr Nouwen takes over the role from Professor Gustaaf van Beers who served in that capacity for the past ten years.
"We are grateful for Professor Van Beers' faithful and formative role in the early years of Mercy Ships Netherlands and for his effort towards the launch the Africa Mercy into service and will miss him," stated Arjen van der Wolf, Director Mercy Ships Netherlands.
"It is a pleasure to announce that we have found a worthy man to continue this role in Paul Nouwen," van der Wolf added. "With his expertise in management, combined with a heart for the poor and for God, Mr Nouwen will be an incredible asset to Mercy Ships."
Nouwen (73) is formerly the director of National Nederlanden Insurance and until his retirement in 1999 was CEO of the Royal Dutch Touring Club ANWB with four million members and four thousand employees.
He serves as a board member for a number of companies and institutions including the Netherlands Institute for New Technology, Economic and Social Studies, SOS Children's Villages, the Ben-Gurion University of the Negev in Israel and a foundation for helping victims of criminality and trafficking. Mr. Nouwen also advises the Dutch government on mobility affairs.
Together with his wife Monique, they are active in church activities, projects in Egypt and social projects in Rotterdam. They have no children.
Paul Nouwen is also the brother of the noted theologian and devotional writer Henri Nouwen, who passed away in 1996.
###