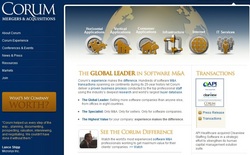 WhatCounts founders David Geller and Brian Ratzliff grew WhatCounts into a market and technology leader. By combining forces with Mansell they have placed their product on the global stage
Bothell, WA (Vocus) December 17, 2010
Software mergers & acquisitions specialist Corum Group Ltd. today announced the acquisition of its client, WhatCounts, Inc. ("WhatCounts") by Mansell Group. ("Mansell") in a strategic move to strengthen its marketing platform and grow its customer base. Terms were not disclosed. With this acquisition, Mansell has acquired a software company that creates, targets, delivers, tracks and manages permission-based email marketing campaigns that help grow, develop and retain long-term, profitable customer relationships. WhatCounts was lead by an experienced executive team including David Geller who served as CEO and Founder along with Brian Ratzliff who was President. Geller will not stay on with the company, instead focusing full time on Eyejot, another startup he founded that is developing video technologies over email.
"WhatCounts founders David Geller and Brian Ratzliff grew WhatCounts into a market and technology leader. By combining forces with Mansell they have placed their product on the global stage," said Nat Burgess, President of Corum Group who advised on the deal.
The company was self-funded and delivered consistent growth and profitability, growing to a size of 50 employees. With a strong focus on the R&D and engineering side, the industry leading software architecture enabled flexible deployment options for clients. In the crowded email marketing platform sector, WhatCounts had a strong position in the high-end SMB space with longstanding clients including Alaska Airlines, REI, Costco, Fox News, MSNBC and others.
About Corum Group
Corum Group Ltd. is the global leader for software M&A, serving tech companies worldwide for the last 25 years. "Experience makes the difference" with Corum, enabling the firm to deliver a proven mergers and acquisition process for its clients all over the world. From its offices in 8 countries the firm has completed over 240 software M&A transactions spanning 6 continents. Corum's M&A advisors are experienced former software company executives themselves, who work with the support of the software M&A industry's best researchers, writers and business valuation experts, using the world's most comprehensive database of tech company buyers. This knowledge, Corum's experience, and its industry expertise, together ensure unequaled success in for its clients selling a business. Corum also educates the software industry with conferences and publishes the most widely distributed software M&A research, including its Monthly Tech M&A Webinar.
About WhatCounts
Since 2001, WhatCounts has been helping successful companies exceed their revenue goals and expand their online presence by creating, managing and delivering exceptional email campaigns. The WhatCounts e-Communications Suite has been an integral component to digital development for years, and continues to benefit client's comprehensive and changing needs.
About Mansell Group
Mansell Group is a privately-held profitable marketing and technology services firm headquartered in Atlanta, Georgia. The company's shareholders include private equity firm The Riverside Company and the current management team.
# # #