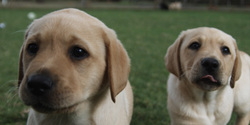 (Vocus) September 7, 2010
Ever since the first Guide Dog arrived in Australia in 1950, Guide Dogs have provided people with impaired vision with greater mobility, independence and confidence throughout their working life, as well as constant support and companionship.
The Guide Dogs movement is the leading provider of Guide Dogs and orientation and mobility training nationally. A new campaign Six Feet, One Journey, developed by FRONTLINE PLUS® and HEARTGARD30® PLUS, celebrates the magical bond that is shared between Guide Dogs and their human partners. Through a collaboration between with National Geographic Channel, Merial and Guide Dogs Australia, a series of short films have been developed, profiling the lives of three Australians with impaired vision and the special relationship they share with their Guide Dogs.
Uplifting and informative, the series reveals the importance of forging a strong working relationship between handler and Guide Dog. Much time and care is taken to ensure that a Guide Dog's behavioural traits match the personal characteristics of its handler, as well as their individual lifestyle and mobility needs.
It is vital that both handler and dog work together as a team, each contributing to a partnership built on trust that begins during their first weeks together and deepens over time. Most Guide Dogs work for an average of eight to ten years. When their harness is on, they know it's time to focus on work with their handler. But like any dog, when their harness is off, they know they can relax and play with the whole family.
Despite the hard work involved, Guide Dogs have a rewarding job indeed. These intelligent dogs lead an interesting life and enjoy its many challenges.
To gain further insight into the wonderful world of Guide Dogs, view the unique film series on subscription television on National Geographic Channel, or see them online at Guide Dogs
Merial Australia Pty Ltd, Level 6, 79 George Street, Parramatta NSW 2150 (ABN 53 071 187 285). ®FRONTLINE and HEARTGARD30 are registered trademarks of Merial. ©2010 Merial Limited. All rights reserved. FRLN-10-179A.
###