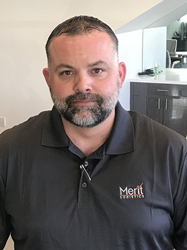 I'm proud to announce the addition of Shawn Smith to our management team. Shawn reflects our company values in terms of continual improvement, operational excellence and exceptional customer communication. I know he'll take our high standards to the next level of service.—Cesar Scolari, Merit CEO
SAN JUAN CAPISTRANO, Ca. (PRWEB) April 16, 2019
Merit Logistics, a national third-party services provider, has hired Shawn Smith as it's new Director of Operations. Mr. Smith has over 20 years of warehouse and logistics experience and has been brought on board to refine and maintain consistent standard operating procedures throughout Merit's East coast operations.
From 1999 to 2011, Shawn Smith was an owner of National Freight Handlers, a leading third party services provider in the logistics industry. After selling the company in 2011, Smith stayed on with the new company for 8 years where he specialized in recoveries of failing sites, start-ups and special projects. He excelled at productivity pay programs that allowed him to significantly reduce workforce while increasing the associates' pay by 35%. This lead to increased retention and associate performance at several distribution centers across the Midwest. His drive, dedication and relentless attention to detail helped increase productivity of up to 20% at every site he managed.
As an independently owned and operated company, Merit has demonstrated the operational excellence, flexibility and responsiveness that today's leading retailers require in order to achieve peak performance in their distribution and supply chain. The company prides itself on its culture of continual improvement and acquiring Shawn Smith to join its management team is a reflection of this mission. Smith's extensive industry knowledge, insight and experience make him a powerful addition to one of the premier leadership teams in the logistics industry.
"I'm extremely proud to announce the addition of Shawn Smith to our management team," says Cesar Scolari, Merit CEO. "Shawn shares many of our company values in terms of continual improvement, operational excellence and exceptional customer communication. I know he will be a valuable addition to our team and help take our high standards to the next level of service."
Merit Logistics is a national third party services provider based in Southern California. Since its inception, Merit has proudly helped many of the nation's largest retailers achieve peak performance and higher profitability through its superior logistics services. For more information on Merit or its innovative services, technology and programs, please contact Bob Shade, Director of Marketing at 949-481-0685 ext. 611.
We Earn It.