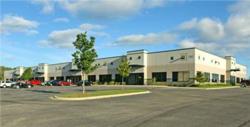 Patterson conducted a multi-location search for our new facility, and we feel the Meritex property is the ideal solution.
Minneapolis, MN (PRWEB) June 28, 2011
Meritex recently announced a seven-year agreement with Patterson Dental to lease an 18,128-square-foot space at Lexington Corporate Center, located at 3225 Neil Armstrong Boulevard in Eagan, Minnesota.
Patterson Dental, a leading distributor of dental products, equipment and technology in the U.S. and Canada, serves as the largest business in the progressive, global Patterson Companies (Nasdaq: PDCO) family of businesses. Patterson Companies is based in Mendota Heights.
Patterson Dental's National Repair Center, along with Corporate IS support personnel, will relocate to Lexington Corporate Center at the end of July. "Patterson conducted a multi-location search for our new facility, and we feel the Meritex property is the ideal solution," said Patterson Real Estate Manager Anne Beacher, RPA, CPM. "This quality property met all of our requirements for the business. Its proximity to our Patterson Dental and Patterson Medical sales offices located in Eagan, and our Corporate headquarters in Mendota Heights is advantageous for our business partners and employees."
Meritex purchased the note for the property in an online auction and subsequently secured ownership of it via a Deed in Lieu of Foreclosure in April 2010. Meritex Property Manager Steve Dorff commented, "In spite of the current economic conditions and having purchased the property nearly vacant, we are significantly ahead of our leasing goals to-date. It is a testament to what strong ownership and a great leasing team can accomplish."
Patterson was represented by Tim Carlson of CresaPartners. Meritex was represented by Zach Anderson and Phil Simonet of Paramount Real Estate Corporation.
Company Information: Meritex is a private real estate investment and management company that acquires, develops, owns and operates commercial real estate, primarily institutional grade, multi-tenant industrial properties. The Company owns, leases, and manages 8.8 million square feet of commercial real estate in seven markets in the U.S. Its portfolio consists of multi-tenant industrial, office and subsurface industrial properties. The Company's properties are located in Atlanta, Columbus, Denver, Houston, Indianapolis, Kansas City, and Minneapolis-St. Paul. Additional information can be found at the Company's website http://www.meritex.com.
# # #