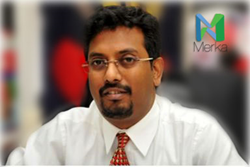 "I stepped in as CEO for Africa to focus on expanding the business footprint and portfolio in the African continent, through cutting edge technology and new products to meet the current challenging conditions of existing and potential customers."
Miami, FL (PRWEB) November 15, 2016
Merka Corp., a Telecom and Media Consulting company announced today the integration of John Vasikaran to its team as Chief Executive Officer of African operations. Vasikaran assumed his new role in October 2016. Merka's founders Fabian Vega (CEO) and Patricio Molina (COO) are confident that John's local presence and extensive Executive experience in several Tier 1 mobile operators in the African markets will boost its presence and revenues.
"It is an incredible honor for me to lead business in Africa for Merka," said Vasikaran. "I stepped in as CEO for Africa to focus on expanding the business footprint and portfolio in the African continent, through cutting edge technology and new products to meet the current challenging conditions of existing and potential customers."
Vasikaran brings to the table over 20 years of experience in Strategic and Tactical Planning, Network Planning and Roll-out, Commercial Functions and General Administration. He holds a Master's degree in Business Administration and a Bachelor's degree in Commerce from Loyola College. He will be based in Nairobi, Kenya.
Since 2011, Merka has enjoyed success in the telecommunications industry in over 35 countries by offering tier one mobile operations with Low & Zero Balance Services such as Collect Call, Balance Advance and Brand Sponsored SMS. Their clients and partners include Bharti Airtel, América Móvil, Telefónica, Movistar and Claro.
With a highly experienced team in mobile and media markets in Latin America, Africa, Europe and the United States, Vasikaran is confident that Merka will pave the way for the future of the telecommunications industry.
"I believe that in the next five years the Telecom and ICT industry will become more ubiquitous and intelligent, and we at Merka focus on products and provide solutions bearing this in mind."
About Merka:
Merka is the pioneer in the Low and Zero Balance Services market, awakening a new appetite for value added services. Since 2011, we have been designing, operating and monetizing high-volume/revenue generating value-added services for operators in the developing world, mainly Latin America and Africa.
Merka is the leader and has the largest worldwide network of Low and Zero Balance Services with launched operations in 25 countries and more in the process of launching.