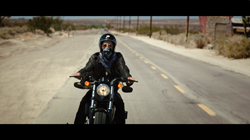 The song was originally born as a remix for another project
Los Angeles, CA (PRWEB) January 19, 2015
Merlin Moon announces the forthcoming release of the music video to "Believe," his highly anticipated first single off his forthcoming album EVOL.
Merlin Moon wrote the lead track during a difficult time in his life. The native Venezuelan had recently lost a close friend in a tragic motorcycle accident. He decided to take a break and retreat to his homeland and recharge.
"Believe" is a song about the challenges we are given and how to overcome them.
The music video, which was shot in the California desert, was directed by Chris Robinson (Alicia Keys, Jay-Z) and follows two individuals whose lives have been weighed down with injustice.
"The song was originally born as a remix for another project," said the artist. "I released the promo video on YouTube, and the feedback from everyone was so positive, that I decided to take a different approach with it."
Under the mentorship of legendary French record-producer Jean-Michel Soupraya, the concept of EVOL was born. The result is a stunning 21-minute long sonic journey, remixed by 3-time Grammy winner, Phil Tan (Rihanna, Usher, Iggy Azalea).
To see the music video, make sure to check out: http://bit.ly/1ycwVFn
For more information on Merlin Moon, visit: http://merlinmoon.com/merlin/
Press Contact:
Amanda P.
CrushPepper
Amanda(at)crushpepper(dot)com