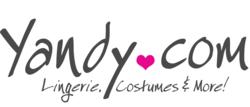 Phoenix, AZ (PRWEB) October 06, 2012
While often referred to as the sirens of the sea, sexy mermaid costumes abound not only on land but at Yandy.com this Halloween season as well. Yandy.com, online retailer of adult Halloween costumes and lingerie, has seen an influx of interest not only by shoppers but manufacturers as well in sexy mermaid costumes as the e-commerce company adds even more options to the already extensive costume collection found on the site.
Yandy has nearly 20 different versions of sexy mermaid costumes in a variety of styles and price ranges, but all with the sex appeal of the mythical sirens of the sea. New to the collection this 2012 Halloween season is the Sexy Sea Mermaid costume which is part of Yandy's boutique collection featuring a deluxe, gold sequin corset top and a gold and blue, body hugging mermaid tail-like skirt with a large gold tail for $239.95. Yandy knows that this high of a price point is not for the every day shopper so the site also offers other more affordable costumes like the Mystic Mermaid costume featuring a black and silver mermaid dress with attached fin and beaded headpiece for $36.95.
Yandy has also found that shoppers are going as groups this Halloween and pairing sexy mermaid costumes with a sexier and obviously feminine version of the lovelorn sailors of myth. With Yandy's extensive sexy sailor costumes collection, finding the right fit to match any mermaid is a cinch. Sailors and mermaids make quite the pair and sexy versions of the duo are sure to turn a few heads at this years costume parties.
Not only are sexy mermaid costumes making a splash with customers at Yandy this Halloween, but every Yandy shopper also receives free, flat rate shipping on orders over $70 and a free panty with every order.
About Yandy.com
E-commerce is on the rise and Yandy.com is one of the largest online retailers of lingerie, sexy Halloween costumes, swimwear and clothing on the web. Founded in 2003, Yandy boasts more than 6,500 products always in stock at easily affordable prices. Yandy ensures that every customer will receive a safe, secure and private online shopping experience and is backed by COMODO online security and Google Checkout. Yandy is dedicated to customer service and only sells what is in stock which allows for quick, same day shipping. Offering the highest quality products at the most affordable prices in the market, Yandy has become a leader in e-commerce. Yandy works closely with all of the manufacturers they distribute for and hand select all of the items on the Web site to ensure customers have the largest and most diverse collection to choose from. In addition, the customer service team at Yandy is unrivaled. With attentive and helpful operators, should a question or problem arise, the customer service team at Yandy is always willing and able to assist. At Yandy, every customer can Be Sexy.