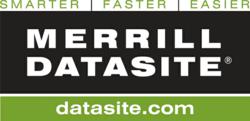 Best Practice in Post-merger Integration
New York, NY (PRWEB) May 25, 2012
Merrill DataSite Releases New Comments:
Read the full article here: http://www.datasite.com/best-practice-post-merger-integration057.htm
An interview with Regional Director for Merrill DataSite, Merlin J. Piscitelli
Mergers, acquisitions and divestitures provide many opportunities and can jump-start profitability, but there's a significant risk of failure, especially when little or no effort is put into the process of Post- Merger Integration (PMI). There's a lot to manage - from re-evaluating current practices, understanding cultural differences, kick starting projects that have been in the pipeline to integrating methodologies, systems and processes - not to mention keeping up with the day job. Acquisition International speaks to Merlin Piscitelli from Merrill DataSite.
Merlin comments: "Merrill DataSite has provided virtual data rooms (VDRs) for over 20,000 transactional projects, but a VDR doesn't need to close when an M&A project does.
"All the critical information about a company that's amassed when a VDR is put together can remain secured and accessible to a newly formed organisation for post-merger integration activity.
Ideally, merging two companies is a seamless process, but in reality it can be a bumpy ride.
We, at Merrill DataSite, understand that M&A professionals need to prioritise certain issues when it comes to integrating businesses, and communication is at the top of the list."
MERLIN, SO HOW SERIOUS IS THE APPROACH TO POST MERGER INTEGRATION AMONGST YOUR CLIENTS?
"Post-merger integration is incredibly important to our clients because the future profitability of their newly formed organisations rests upon it. Clients can't afford for there to be information gaps, or holes in their data, as this will slow up the integration process and impact on productivity and profitability. Employee engagement and motivation, at all levels of the business, can suffer as a result of large-scale change and this shouldn't be exacerbated by poor information flow or an inability to communicate effectively.
Access to documentation, such as employee contracts and personnel records, enables faster integration, optimal productivity to be maintained and a greater chance of ultimate profitability.
Putting together a cohesive and clearly defined management team also helps mitigate integration problems. New management teams are usually comprised of professionals from both organisations and the importance of having clear leadership cannot be underestimated. Our clients don't want there to be any confusion about who is in what role prior to the conclusion of a deal. With clarity, everyone is able to move forward in the new team and in the right direction. This requires HR due diligence, which again can be facilitated with a VDR.
HR due diligence; the ability to review critical employee data in the company being acquired, is exceptionally important, as key personnel can't be left hanging in the balance. In our experience, some acquiring companies don't act soon enough on their decisions about employee placement due to the fact they don't know enough about the people they will be employing.
Delaying crucial management or personnel decisions makes integration tougher, which can leave employees frustrated and resentful. Merrill DataSite's Virtual Data Room (VDR) makes the integration process more efficient and productive by allowing HR and newly formed management teams to access employee files and assess the best candidates to develop the new company with."
About Merrill DataSite
Merrill DataSite is a secure virtual data room (VDR) solution that optimizes the due diligence process by providing a highly efficient and secure method for sharing key business information between multiple parties. Merrill DataSite provides unlimited access for users worldwide, as well as real-time activity reports, site-wide search at the document level, enhanced communications through the Q&A feature and superior project management service - all of which help reduce transaction time and expense. Merrill DataSite's multilingual support staff is available from anywhere in the world, 24/7, and can have your VDR up and running with thousands of pages loaded within 24 hours or less.
With its deep roots in transaction and compliance services, Merrill Corporation has a cultural, organization-wide discipline in the management and processing of confidential content. Merrill DataSite is the first VDR provider to understand customer and industry needs by earning an ISO/IEC 27001:2005 certificate of registration – the highest standard for information security – and is currently the world's only VDR certified for operations in the United States, Europe and Asia.
As the leading provider of VDR solutions, Merrill DataSite has empowered nearly 2 million unique visitors to perform electronic due diligence on thousands of transaction totaling trillions of dollars in asset value. Merrill DataSite VDR solution has become an essential tool in an efficient and legally defensible process for completing multiple types of financial transactions. Learn more by visiting http://www.datasite.com today!
For more information, please contact Merrill DataSite: Tel: 1-866-399-3770;
Email: info(at)datasite(dot)com;
Read the full article here:
http://www.datasite.com/best-practice-post-merger-integration057.htm
View our Knowledge Center here: http://www.datasite.com/white-papers.htm
Follow us on Twitter: @merrilldatasite