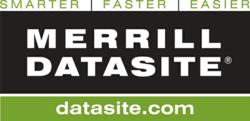 The Road Show Presentation
New York, US (PRWEB) October 25, 2012
Watch the free webinar playback here: http://bit.ly/UiQIhr
A complimentary webinar by Thomson Reuters with Merrill DataSite
This webinar originally aired on Wednesday, October 3rd, 2012
The Road Show Presentation answers the questions you have on how to prepare for the actual meeting now that your materials are prepared and your meetings with investors are set.
Topics Covered in this FREE Webinar Playback Include:

Who from the team should attend the road show meeting? What do LPs look for when it comes to team dynamics and interaction?
How do you refine your message? How do you make sure that message is well received?
How do you and your team determine what are the core few points that must be included in any presentation?
What are the top mistakes LPs say firms make during road show presentations?
How can you deal with blemishes on your track record and other potential snafus?
What legal issues do you need to be aware of in presenting your record?
What are the five toughest questions LPs love to surprise firms with, and how should GPs handle them?
The panel members for this event are:

Kevin Albert, Partner, Pantheon Ventures
Kelly DePonte, Partner, Probitas Partners
Amit Tiwari, Principal, Invesco Private Capital
Andy Unanue, Managing Partner, AUA Private Equity Partners
Moderator: Mark Cecil, Contributing Editor, Thomson Reuters
Click here to access the playback
About Merrill DataSite
Merrill DataSite is a secure virtual data room (VDR) solution that optimizes the due diligence process by providing a highly efficient and secure method for sharing key business information between multiple parties. Merrill DataSite provides unlimited access for users worldwide, as well as real-time activity reports, site-wide search at the document level, enhanced communications through the Q&A feature and superior project management service - all of which help reduce transaction time and expense. Merrill DataSite's multilingual support staff is available from anywhere in the world, 24/7, and can have your VDR up and running with thousands of pages loaded within 24 hours or less.
With its deep roots in transaction and compliance services, Merrill Corporation has a cultural, organization-wide discipline in the management and processing of confidential content. Merrill DataSite is the first VDR provider to understand customer and industry needs by earning an ISO/IEC 27001:2005 certificate of registration – the highest standard for information security – and is currently the world's only VDR certified for operations in the United States, Europe and Asia.
As the leading provider of VDR solutions, Merrill DataSite has empowered nearly 2 million unique visitors to perform electronic due diligence on thousands of transaction totaling trillions of dollars in asset value. Merrill DataSite VDR solution has become an essential tool in an efficient and legally defensible process for completing multiple types of financial transactions. Learn more by visiting http://www.datasite.com today!
For more information, please contact Merrill DataSite: Tel: 1-866-399-3770;
Email: info(at)datasite(dot)com
Read the full article here:
http://www.datasite.com/road-show-presentation-webinar.htm
Follow us on Twitter: @merrilldatasite