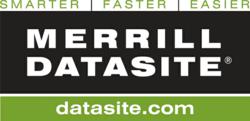 Upcoming Event: Opportunities and Trends in M&A Transactions
New York, US (PRWEB) October 03, 2012
Register to join the complimentary panel discussion here: http://bit.ly/PiqOUq
Merrill DataSite is pleased to sponsor this breakfast event that will bring together a group of esteemed professionals from the Boston business community to offer their insight into some of the broader trends affecting mergers and acquisitions as well as discuss the environment for M&A activity in New England.
In addition to hearing from the panelists, participants will have an opportunity to join the conversation during Q&A as well as meet other business professionals who share their interest in this very exciting topic.
Among the topics to be discussed:

What industries are currently experiencing the greatest level of M&A activity?
What are the most common structures for M&A today?
Is it a buyers or sellers market in New England?
WHEN: Thursday, October 25, 2012
7:30am to 9:30am EDT
Breakfast buffet will be served at 7:30 A.M. and the panel discussion will begin promptly at 8:30 A.M.
WHERE: Boston College Club
100 Federal Street
Boston, MA
REGISTER: Please click here.
For additional information or questions, please contact Kristina McPhee at kristina.mcphee@merrillcorp.com.
Panel of Experts
Merrill DataSite have assembled a diverse panel of business professionals that will provide insights, ideas and resources to navigate the current and future M&A environment including:

Christopher Pasko, Senior Managing Director of Blackstone Advisory Partners LP The Blackstone Group
Brian Cohen, Chief Financial Officer Dynamic Ops
Scott Mattson, Director William Blair & Company
Phil Rossetti, Managing Partner, Latham & Watkins
Brian Perrault, Principal Needham & Company, LLC
About Merrill DataSite
Merrill DataSite is a secure virtual data room (VDR) solution that optimizes the due diligence process by providing a highly efficient and secure method for sharing key business information between multiple parties. Merrill DataSite provides unlimited access for users worldwide, as well as real-time activity reports, site-wide search at the document level, enhanced communications through the Q&A feature and superior project management service - all of which help reduce transaction time and expense. Merrill DataSite's multilingual support staff is available from anywhere in the world, 24/7, and can have your VDR up and running with thousands of pages loaded within 24 hours or less.
With its deep roots in transaction and compliance services, Merrill Corporation has a cultural, organization-wide discipline in the management and processing of confidential content. Merrill DataSite is the first VDR provider to understand customer and industry needs by earning an ISO/IEC 27001:2005 certificate of registration – the highest standard for information security – and is currently the world's only VDR certified for operations in the United States, Europe and Asia.
As the leading provider of VDR solutions, Merrill DataSite has empowered nearly 2 million unique visitors to perform electronic due diligence on thousands of transaction totaling trillions of dollars in asset value. Merrill DataSite VDR solution has become an essential tool in an efficient and legally defensible process for completing multiple types of financial transactions.
For more information, please contact Merrill DataSite: Tel: 1-866-399-3770;
Email: info(at)datasite(dot)com;
oin the Complimentary Panel Discussion here: http://www.datasitedeal.com/DS_Speaker_Boston_12?LeadSource=Trade_Show&CampaignID=701C0000000hKOc&elq=369ced70727f41e495f4132cc518d5f9&elqCampaignId=
Follow us on Twitter: @merrilldatasite