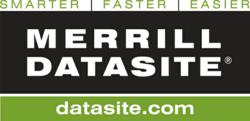 Changing Face of Healthcare Leading to More Pharma-biotech Tie-ups
(PRWEB) February 22, 2012
Merrill DataSite Releases New Comments: The recent BioPartnership Europe event in London has highlighted the fact that pharmaceutical firms and biotech businesses are increasingly dependent on each other, which could lead to further merger deals.
Pharmaceutical firms are facing a surge in patent expiries and are increasingly aware of the importance of licensing and the move towards personalised healthcare to the industry. Rather than just investing in R&D to develop new drugs, pharmaceuticals are now teaming up with biotechs and, increasingly, are buying them up.
According to new figures from Deloitte Recap, some 369 biotech deals took place in the first half of last year, with a value of more than $16 billion. If the same number took place in the second half, the $25 billion total for 2010 will easily be exceeded.
Despite the increased total deal value, individual deals seem to be worth much less in recent years, with much of the risk for large pharmaceuticals being removed through the use of contingency payments, as opposed on upfront payments.
AstraZeneca was one of the pharma giants attending the BioPartnership event and it was happy to talk openly about its hopes for teaming up with biotechs. The firm's head of personalised healthcare and biomarkets, Bob Holland, explained that it was looking to move further into the personalised healthcare sector, as it sees the sector as a major growth opportunity.
Mr Holland explained that this means a change in tactics for large pharmaceuticals in terms of their approach to R&D and the crisis that has emerged in this area. He stated, "We see personalised healthcare as a solution to the problem. It is the right thing to do for the patients, the prescriber and the payer."
He went on to talk about the other areas in which a collaboration or merger with biotech firms could prove useful, outlining its interests in diagnostics science, lifecycle management and molecular changes for conditions such as cancer and respiratory disease. Holland made it clear that AstraZeneca had little intention of developing its own in-house development platform, and instead intended to call upon biotech partners for the work. He explained, "Partnership is essential to the way we develop personalised healthcare."
Deals such as these also benefit the biotech firms, with many of them struggling to secure the finance needed to develop their pipeline treatments. A deal with a pharmaceutical firm offers them financial validation for their findings and allows them to bring their developments to market.
They are, however, enjoying increased stock market prices at the moment off the back of the pushed-through House Resolution 1003, which could spell the end of Obama's Affordable Care Act in the US. So far this year, biotech stock prices have soared some 11 per cent.
As pharmaceutical firms make moves to merge with biotechs, carrying out thorough due diligence is, of course, essential in order to avoid a bad decision that could cost more than expected in the long run. However, there is no denying that these kinds of tie-ups could result in major benefits to shareholders and patients alike.
For example, the deal between Bayer HealthCare and OncoMed Pharmaceuticals took place after Bayer decided it was interested in cancer stem cells and wanted to make use of OncoMed's expertise in this area. The deal led to the discovery of an antibody, which is now in phase 1 of its development – suggesting what could be achieved through well-planned merges between those who develop the drugs and those with the financial power to bring them to market.
About Merrill DataSite
Merrill DataSite is a secure virtual data room (VDR) solution that optimises the due diligence process by providing a highly efficient and secure method for sharing key business information between multiple parties. Merrill DataSite provides unlimited access for users worldwide, as well as real-time activity reports, site-wide search at the document level, enhanced communications through the Q&A feature and superior project management service - all of which help reduce transaction time and expense. Merrill DataSite's multilingual support staff is available from anywhere in the world, 24/7, and can have your VDR up and running with thousands of pages loaded within 24 hours or less.
With its deep roots in transaction and compliance services, Merrill Corporation has a cultural, organization-wide discipline in the management and processing of confidential content. Merrill DataSite is the first VDR provider to understand customer and industry needs by earning an ISO/IEC 27001:2005 certificate of registration – the highest standard for information security – and is currently the world's only VDR certified for operations in the United States, Europe and Asia.
As the leading provider of VDR solutions, Merrill DataSite has empowered nearly 2 million unique visitors to perform electronic due diligence on thousands of transaction totaling trillions of dollars in asset value. Merrill DataSite VDR solution has become an essential tool in an efficient and legally defensible process for completing multiple types of financial transactions.
Follow us on Twitter: @merrilldatasite
# # #