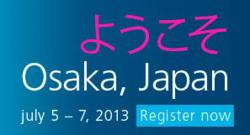 The Mindful Movement World Tour is a celebration of the STOTT PILATES brand's silver anniversary, as well as an introduction to our other fitness brands
Toronto, ON (PRWEB) February 14, 2013
Merrithew Health & Fitness™ (MH&F), the company behind STOTT PILATES® and other popular fitness brands ZEN●GA™, CORE™ and Stability Barre™ is taking its premier training around the world adding a second Asian date to the Merrithew Mindful Movement World Tour (#mmm2103). The Mindful Movement World Tour, comprised of 3 day educational symposiums spanning ten countries including Germany, the United States, China, and has just announced dates for Osaka, Japan.
"The Mindful Movement World Tour is a celebration of the STOTT PILATES brand's silver anniversary, as well as an introduction to our other fitness brands," explained Moira Merrithew, Co-founder and Executive Director of Education at MH&F. "It provides an opportunity for STOTT PILATES Certified Instructors to continue their education, but also allows fitness professionals who have never trained in mind-body modalities to receive a first-class introduction to mindful exercise and programming."
Featuring sought-after Merrithew Health & Fitness Master Instructor Trainers, John Garey, Kim Kraushar, and PJ O'Clair, each day of the Merrithew Mindful Movement World Tour presents a choice of sessions so attendees may tailor the event to suit their needs.
"Merrithew Health & Fitness Master Instructors are the individuals who develop the repertoire," said Lindsay G. Merrithew, Co-founder and CEO of Merrithew Health & Fitness. "Bringing our Master Instructor Trainers on tour makes training in these programs more accessible to our community of Training Centers, Instructor Trainers, Certified Instructors and others with an interest in mind-body fitness."
Registration is now available with early bird discounts in effect. Prices begin at $300 for four workshops to $810 to attend all three days with an early registration discount in effect until February 15 for New York City, March 1 for Los Angeles, and April 1, 2013 for Shanghai and Osaka. For additional tour information, visit http://www.merrithew.com/worldtour2013.
Merrithew Mindful Movement World Tour Itinerary*

April 12 - 14, Cologne, Germany, Marriott Cologne
April 26 - 28, New York City, Baryshnikov Arts Center
May 17 - 19, Los Angeles, California, Marriott Manhattan Beach
June 28 – 30, Shanghai, China, Radisson Blu Hotel Pudong Century Park
July 5 - 7, Osaka, Japan, Hearton Hall
TBD, Madrid, Spain
TBD, Brazil
TBD, Melbourne, Australia
November 8 - 10, London, England, YMCA Central London
TBD, Mexico City, Mexico
December 6 - 8, Toronto, Canada
*Itinerary subject to change.
Merrithew Health & FitnessTM is dedicated to building high-caliber, multi-disciplinary fitness brands for people of all ages, levels of fitness and abilities. For 25 years, Lindsay and Moira Merrithew have built their business on the philosophy that effective and responsible exercise is the foundation to a better lifestyle. STOTT PILATES®, MH&F's premier Pilates brand, delivers high-caliber education with over 35,000 students trained in118 countries. Their other high-end fitness brands include CORE™ Athletic Conditioning & Performance Training™, and ZEN●GA™, an innovative fusion of exercise science and mindful movement. For more information please visit merrithew.com. Follow them on Twitter @STOTT_PILATES.