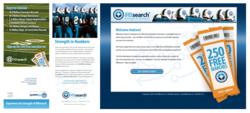 We knew that adding the ability to monitor customer activity in real time could only increase our results by allowing us to better understand and react to our customers' needs.
Hartford, CT (Vocus/PRWEB) March 30, 2011
IRBsearch®, an online database provider, wanted to use a new type of campaign that could enhance the capability to track qualified leads and customer activity. With some online research on cross-media marketing and personalized URLs (PURLs), IRBsearch® decided to employ these tactics. They wanted more from their campaigns and chose to utilize this technology with the hope that they would see added value and increased campaign results.
"We've been doing direct mail campaigns for years now; its something that's tried and true for us. We know that direct mail works," explains Rebecca Roberts, National Marketing Director for IRBsearch®. "We've never used personalized URLs before and decided based on our research that it was worth implementing this technology as part of our latest campaign. We have thoroughly tracked other campaigns and found standard direct mail to be successful. We knew that adding the ability to monitor customer activity in real time could only increase our results by allowing us to better understand and react to our customers' needs. We were excited to see how our marketing efforts would be positively impacted by utilizing the technology that Joseph Merritt & Company was able to provide."
With thousands of highly targeted direct mail pieces sent, one of the biggest benefits of employing the Merritt Cross-Media Marketing technology was access to the real-time analytics throughout the campaign. IRBsearch® sales and marketing staff were able to immediately track all activity that pertained to the campaign versus waiting several weeks or months to see customers converting. With a true cross-media approach, the Merritt Cross-Media Marketing solution was able to track and maintain visits from IRBsearch's® Facebook page, numerous homepage links, outbound emails, and other sources. Funneling all visitors to one point of conversion gave them highly intelligent analytics—even from sources other than the direct mail portion of the campaign.
Knowing exactly how and what time of day a recipient responded to the campaign's call to action provided insight into the behavior of their client demographic. Laura O'Kane, Marketing Communications Director for IRBsearch® believes that allowing recipients to respond to the campaign's call to action at any time of day positively impacted this campaign's success. "Most of our customers are small to medium business owners. As professional investigators they spend most days in the field doing surveillance or meeting with clients," explains O'Kane. She adds that, "By giving them the opportunity to take advantage of the offer online rather than having to call IRBsearch® during business hours, they were able to respond when it was convenient to them—which in many cases was in the evening or over the weekend."
About IRBsearch LLC
IRBsearch® (http://www.irbsearch.com) is the nation's premier provider of online risk management services for professional investigators, process servers, bail bondsmen, and judgment recovery and repossession agents. IRBsearch® offers the best information for locating people, businesses, and their assets.
Contact: IRBsearch® | marketing(at)irbsearch(dot)com | http://www.IRBsearch.com
About Joseph Merritt & Company
Joseph Merritt & Company (http://www.merrittgraphics.com) is a communication and creative content delivery partner that provides integrated communication solutions through new and traditional media. It offers the latest in personalized marketing and digital media communications solutions, mailing and fulfillment services. A nationally recognized leader in cross-media marketing solutions, it also provides Web-to-Print, Variable Data Printing, and 1:1 marketing technologies for a global client base ranging from small, non-profit organizations to large Fortune 500 companies. Learn more about Merritt's Cross Media Marketing Solutions at http://bit.ly/MGcrossmedia.
###