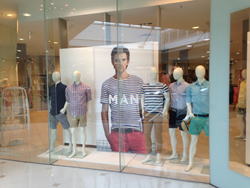 According to a 2014 report by Infotrends, 81.3% of the wide-format printers surveyed have seen significant growth in textiles as a percentage of their business.
East Hartford, CT (PRWEB) September 10, 2014
Digital textile printing is a growing opportunity for wide-format applications. It is quickly transforming the world of display graphics in the exhibit, POP, and retail market segments and continues to revolutionize the print industry. Fabrics are lightweight, environmentally friendly, easily transported, and the applications are virtually endless. These characteristics contribute to fabric graphics placing second in The Wide Format Imaging "2014 Top 40 Shops Top 10 Growth" segments.
Merritt Graphics of East Hartford, CT waited for the right opportunity to break into the digital textile printing industry. "We wanted to bide our time and watch the market," said Ed Perry, President and CEO. "Another consideration was waiting to find the machine that felt like a perfect fit for our purposes." Merritt Graphics recently decided that the time was right and just finished installing a new PrinterEvolution Eos126 DS dye-sublimation printer.
The PrinterEvolution Eos126 DS dye-sublimation printer is the first printer of its kind in the United States. It revolutionizes dye-sublimation printing into a one-step process with true on-board sublimation. The Eos126 DS can achieve 24-hour-per-day production demands with high speeds, beautiful color, and industrial reliability.
Merritt required a printer that would not only exceed their clients' demands for quality and quantity but also sustainability. The Eos126 DS is environmentally friendly. It uses water-based inks and passes all Oeko-tex® Standard 100 certifications, functioning with a very small footprint and low electrical requirements. This is especially cost effective compared to systems utilizing a separate sublimation calender, which requires a larger footprint and hood extraction built into the roofing system. Additionally, the Eos126 DS print heads are true grayscale versadrop, meaning 30-50% less ink is used compared to printers using binary drop print heads.
To add to its fabric-finishing services, Merritt Graphics also purchased an Impulsa Sewing System. This specialty industrial sewing machine has a 3-meter (10') long automated conveyor table that moves the material along the bed in synchronization with the Auto Keder (or Silicon Edge Graphics [SEG]) attachment. It has a patented ATAS system that provides stress-free feeding of the SEG and automated cutting of the SEG to avoid tension or stretch on the fabrics while the SEG is being sewn in.
According to a 2014 report by InfoTrends, 81.3% of the wide-format printers surveyed have seen significant growth in textiles as a percentage of their business. Perry submits, "Clients are looking for fabric prints, not only for tablecloths and tradeshow exhibits, but to replace indoor backlit films or rigid signage. We have seen an increase in the need for quick change fabric signs, and the SEG backing provides for a simple installation by anyone."
About Merritt Graphics:
Merritt Graphics Big Color of East Hartford, CT is the grand-format printing division of Joseph Merritt Company, headquartered in nearby Hartford, CT. The company currently serves national markets including: Out of Home and Transit, POP, Indoor & Retail graphics, Vehicle graphics, Event Exhibit & Venue graphics, Environmental graphics, and Custom Sign fabrication. Merritt Graphics uses advanced printing technologies and sources quality substrates to consistently deliver high-end results. Merritt is certified by 3M to offer the 3M™ MCS™ Warranty for delivering finished graphics that meet 3M's exacting requirements. This certification is not required by 3M, but demonstrates Merritt's commitment to excellence.
To learn more about PrinterEvolution visit http://www.printerevolution.com
To learn more about Merritt Graphics visit http://www.merrittgraphics.com/big-color