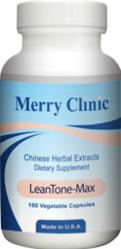 San Bruno, CA (PRWEB) September 08, 2012
With multiple thriving clinics and a robust career spanning two decades, Dr. Merry Manqun Li, has set out to expand her already successful line-up of healthcare products to include the powerful herbal weight-loss formulation, LeanTone Max.
A graduate of the Shanghai Traditional Chinese Medical School in China, Dr. Li worked as a medical doctor in ShangHai RuiJin Hospital for many years. Shortly after relocating to the United States, Dr. Li opened her first clinic in San Francisco. More clinics were established consecutively, which has enabled her to successfully treat over fifty thousand patients.
Over the last 20 years, Dr. Li has observed a dramatic increase in obesity in the United States. In fact, over one-third of U.S. adults (35.7%) are now obese, according to the Centers for Disease Control & Prevention. Despite the fact that hundreds of weight loss products are on the market, they're either completely ineffective or proven unsafe for long term use. Harnessing her extensive knowledge and research of Chinese Herbal Medicine, Dr. Li set out to create a weight-loss product that was both safe and powerfully effective.
Using a synergistic blend of traditional Chinese herbs, Dr. Li developed LeanTone Max as a healthy approach to weight loss and well-being. The 100% natural, safe and gentle herbal formulation not only provides quick weight loss, but helps to effectively keep it off. LeanTone Max boosts metabolism, inhibits cellulite formulation, removes harmful toxins, improves overall health, and has been found to suppress difficult food cravings as well.
How is LeanTone Max so different from other herbal weight-loss supplements on the market? When developing LeanTone Max, Dr. Li combined a unique variety of medicinal extracts, which have not only been used for centuries in traditional Chinese Medicine, but have been proven effective in Western studies as well. In fact, LeanTone Max has quickly gained the attention of the media and dieters everywhere as the only dietary product that provides genuine and lasting results.
For more information and online availability please visit: http://merryclinic.com/products/leantonemax.html
For further information, images or samples to review please contact:
Dr. Merry Li
service(at)merryclinic(dot)com
Phone: 1-888-880-1499 (within USA)
Phone: 1-650-588-8335
Fax: 1-650-588-2544