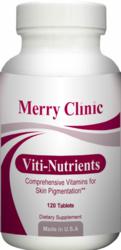 (PRWEB) January 27, 2012
Around 65 million people worldwide suffer from the skin pigmentation disorder vitiligo. Dr Merry Li, a renowned Chinese herbalist based in San Francisco, brings you her unique blend of Chinese herbs, Viti-Nutrients, which may help to restore skin pigmentation and encourage healthy skin.
Vitiligo is caused by the death or malfunction of the brown pigment-producing skin cells, melanocytes. The white skin patches that result are not itchy, painful or a sign of cancer, but when they occur on visible parts of the skin they can make a person feel very self-conscious and cause psychological suffering. Though vitiligo is most noticeable in people with naturally dark skin, it in fact affects people of all races and skin types and can even present in the hair, eyebrows or eyelashes.
Vitiligo is incurable and doctors are still not 100% sure what is the root cause of the condition. However, current research suggests that it is an autoimmune disease whereby the body's immune system mistakenly attacks and destroys its own healthy cells. In turn, it is thought that autoimmunity can be caused by a dietary deficiency of certain vitamins and minerals; anti-oxidant nutrients that support cells in their function.
Dr Merry Li has treated many vitiligo and skin pigmentation disorder patients over the years and has seen real results in skin condition and appearance. "My unique herbal formula, Vitilax, begins the healing process from the inside by balancing the immune system," explains Dr Li. "These capsules contain a blend of 14 traditional Chinese herbs and ingredients targeted to the treatment of vitiligo. Now, the Viti-Nutrients vitamin supplement – which is high in compounds such as zinc, copper, pantothenic acid, vitamin B12 and folic acid, often found lacking in vitiligo sufferers – provides an anti-oxidant boost when taken together with the Vitilax capsules and helps to speed up and enhance the reformation of pigment in white skin patches."
For more information on vitiligo and to purchase Merry Li's Viti-Nutrients supplement online, please visit http://www.MerryClinic.com.
###