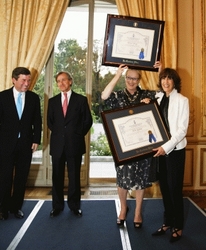 Secaucus, NJ (PRWEB) September 21, 2009
Meryl Streep and Nora Ephron were recently presented with honorary diplomas from the famed Le Cordon Bleu cooking school in Paris, France. Streep was honored for her outstanding interpretation of the legendary Julia Child and Nora Ephron for the film adaptation of the book Julie & Julia. The ceremony took place at the United States Embassy in Paris during an advance screening of the film hosted by US Ambassador Charles Rivkin; newly appointed to France by President Obama. Mr Andre Cointreau, president of Le Cordon Bleu International presented Ms. Ephron and Ms. Streep with the distinctions.
After the liberation of Paris in 1945, Le Cordon Bleu was accredited by the Pentagon for the professional training of young GI's after their tour of duty. As a former member of the OSS, Julia Child qualified and in 1948 enrolled at Le Cordon Bleu Paris. Child introduced the French culinary techniques taught at Le Cordon Bleu to the American public through television and print publications. Child co-authored Mastering the Art of French Cooking (Knopf, 1961) which 48 years after being first released is currently at the top of the New York Times Best Seller list.
Le Cordon Bleu Origins
In 1895 the weekly magazine La Cuisinière Cordon Bleu was published by the journalist Marthe Distel. Over the next seventy years, it became the basis and reference for what is now perhaps one of the largest recipe collections in the world. Following the success of the publication, Le Cordon Bleu opened its doors as a culinary school in Paris on January 14, 1896.
Le Cordon Bleu Today
Le Cordon Bleu International has a presence in 15 countries with 35 schools, training more than 20,000 students of over 70 nationalities every year. Le Cordon Bleu has become one of the leading groups dedicated to culinary and hospitality management education. Developments in the curriculum of Le Cordon Bleu have led to the establishment of Bachelor and Masters Degrees in hospitality management in cooperation with international universities. Le Cordon Bleu has a tradition of excellence in the world of gastronomy and is committed to furthering the appreciation of gastronomy and the French art of living.
Visit Le Cordon Bleu at http://www.cordonbleu.edu/julieandjulia for inspiring recipes and the latest Le Cordon Bleu events and classes worldwide.
###