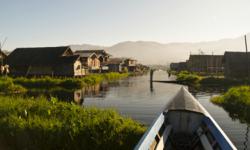 Luxury tours are not all about staying in five-star hotels, they're more about creating that uniquely tailored journey
Bangkok, Thailand (PRWEB) August 08, 2012
Luxury travel is on the rise and Backyard Travel is meeting demand by offering exclusive individualized itineraries through Myanmar. Stylish boutique hotels, elegant modes of transport and carefully crafted excursions promise travel experiences currently unparalleled in the market.
Myanmar's beauty is unique within Asia, its thick forests, vast deserted coastlines, and sheer abundance of temples setting it apart from anywhere else in the region. Having recently become more accessible to travelers, now is the time for discerning voyagers to delve into Myanmar arts, culture and tradition, and enjoy bespoke experiences at an unhurried pace.
Backyard Travel's Luxury Myanmar tour delivers a fresh look at classic destinations, enabling a deeper appreciation of the country's more visited sites, plus plenty of opportunities for new discoveries. Travelers can explore Bagan temple territory via horse-drawn carriage, enjoy Yangon from the seat of a 1945 vintage Chevrolet, or cruise across the stunning Inle Lake in the back of a motorboat.
Ensuring a journey that does justice to Myanmar's breathtaking scenery and rich cultural heritage, luxury accommodation for this tour blends style and authenticity. Travelers wake one morning to panoramic water views from their stilted lakeside bungalow, the next, to the manicured gardens of the Governor's Residence in Yangon. Wine-tasting, cocktails on the Irrawaddy River, village school visits and a traditional Inthar meal are all part of the trip, creating the perfect balance of refinement, relaxation and cultural enlightenment.
For a sophisticated seaside escape in Myanmar, travelers can opt for a luxurious beach break in Ngapali. Not only does the region offer up some of Asia's most idyllic stretches of coastline, travelers seeking a true retreat can easily find seclusion surrounded by gently swaying palm trees and powder-fine sands. For those who want it, excitement is never far away, with optional tour extras including island-hopping and jeep tours to Mount Victoria and beyond.
The company's Yangon-based Myanmar Travel Specialist Mr Ye Thi Ha says, "Luxury tours are not all about staying in five-star hotels, they're more about creating that uniquely tailored journey, one that's designed by experts who can interpret an individual traveler's needs and turn it into the perfect travel experience. The Luxury Myanmar tour allows travelers to visit cultural sites in a highly customized manner with the most knowledgeable guides and a choice of unique tour add-ons."
Aside from customized itineraries and insider information, Backyard Travel offers completely stress-free journeys, with all fees, tickets, and English-speaking guide included in the package. To discover more of Asia, check Backyard Travel's complete range of specialized tours.
ABOUT BACKYARD TRAVEL:
Bangkok based Backyard Travel is an online travel company specializing in tailor made tours to Vietnam, Thailand, Cambodia, Laos, Myanmar, Indonesia and Japan. For more information about Backyard Travel, visit http://www.backyardtravel.com. See their Facebook page http://www.facebook.com/BackyardTravel