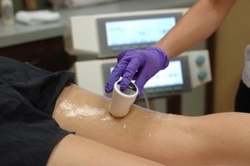 Mesotherapy is effective in delivering naturally produced fat-burning ingredients to specific areas of the body
DALLAS (PRWEB) August 7, 2007
"Mesotherapy is effective in delivering naturally produced fat-burning ingredients to specific areas of the body," said Pascal Servell, clinical director of MedSurge Advances. "However, it traditionally has been injected through hypodermic needles, and can require many injections to have a noticeable impact on appearance.
"Now, with MesoMassage, we can deliver these ingredients painlessly, opening pathways through the skin without needles to burn fat in larger areas where cellulite, stubborn fat deposits and unsightly bulges reside."
Mesotherapy utilizes a cocktail of fat-burning ingredients such as phosphatydilcholine and deoxycholate to act as "fat detergents," targeting adipose fat cells by inducing rupture and cell death among adipocytes. Mesotherapy is an effective treatment for cellulite reduction, liposculpting and body contouring practiced by about 18,000 physicians worldwide.
Until now, the primary limitation of mesotherapy has been that it requires multiple injections to be effective. Each injection delivers the active ingredients to an area about the size of a quarter. As a result of the pain, swelling and other disadvantages associated with hypodermic needles, patients often tolerate treatment to only small areas of the body.
Because MesoMassage eliminates the need for multiple hypodermic injections, it is more practical to apply to large areas of the body than traditional mesotherapy. MesoMassage combines electric and ultrasonic waveforms to open pathways through the skin, enabling the painless delivery of mesotherapy ingredients to problem areas such as the thighs, abdomen and buttocks.
Availability
MesoMassage is available exclusively through U.S. physicians and is a core technology of futureperfect(TM) Total Body Management Centers. Interested physicians are asked to contact Jennifer DeLaughter at 877.804.9460 or by e-mail at jdelaughter@medsurgeadvances.com. Female consumers can learn about MesoMassage at the flagship futureperfect Total Body Management Center in the Dallas suburb of Plano, 972.505.2927. To view MesoMassage in action, visit http://www.futureperfect.com/mesomassage.php.
About futureperfect Total Body Management Centers
futureperfect(TM) Total Body Management Centers are a new, technology-driven concept in health and fitness by MedSurge Advances -- an evolution of the medical spa called a fitness spa(TM) or FitSpa(TM).
Utilizing exclusive technologies from Europe and Japan, futureperfect delivers tailored results based on individual goals of fat reduction, body shaping, muscle toning and skin firming and smoothing. futureperfect technologies safely burn fat and tone the body by increasing metabolism, mobilizing fat in the blood, and emulsifying fat. Women experience substantial fitness benefits with only light exertion, because the technologies do much of the work.
futureperfect is a comprehensive system that includes nutrition, a support network and medical supervision. Each futureperfect customized plan is designed with the input and oversight of a medical professional and a registered dietician. Designed for women, futureperfect is a breakthrough for those who have been unable to achieve their body-appearance goals through traditional means. For more information about futureperfect, call 972.505.2927 or visit http://www.futureperfect.com.
About MedSurge Advances
Based in Dallas, MedSurge Advances helps physicians across the United States build and manage their practices in aesthetic medicine, one of the fastest-growing healthcare segments. Since its founding in 2002, MedSurge Advances has provided technology and business resources for hundreds of physicians who have started stand-alone businesses or added aesthetic procedures to their existing practices. For more information, contact MedSurge Advances at 877.804.9460, or visit http://www.medsurgeadvances.com.