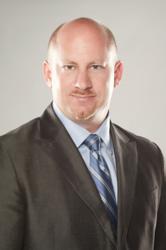 I am excited to be able to provide the highest quality legal services to the most deserving clients who, through no fault of their own, have been tragically injured due to corporate irresponsibility
Dallas, TX (PRWEB) October 26, 2011
Ron C. Eddins announced the opening of his new law firm, Eddins Law Firm, P.C. Eddins will focus on plaintiff litigation cases, most notably asbestos and mesothelioma lawsuits. The firm officially launched in September 2011 and already has offices in Texas and California representing plaintiffs throughout the United States.
"I am excited to be able to provide the highest quality legal services to the most deserving clients who, through no fault of their own, have been tragically injured due to corporate irresponsibility," said Eddins. "Our focus is on providing quality throughout the entire process of any lawsuit, mesothelioma or otherwise." The Eddins Law Firm is a professional corporation led by attorney shareholders who have documented successes in representing asbestos victims across the country. The firm handles all aspects of a lawsuit, from initial intake to research to litigation and through to appeal, if required. "Our strong team of attorneys will be there for our clients every step of the way," said Eddins.
The Eddins Law Firm was founded on September 1, 2011 by Ron C. Eddins. He dedicates 100% of his time to litigation, particularly in the areas of toxic tort litigation and mesothelioma. In addition to the shareholders, Eddins is comprised of mesothelioma attorneys and trial lawyers that have demonstrated ability in their specialty areas plus the drive and commitment to the Eddins business model.
"One of the benefits of being with Eddins is that I know the firm has the resources and trial experience necessary to fight the biggest of battles against the largest of corporations for each client's cause," said Eddins' associate Clay B. Carroll. "Our clients have a worthy cause, not a case. We are dedicated to our clients in a way that is rare in the legal industry."
The Eddins Law Firm, P.C. handles plaintiff-only litigation on contingency. The Eddins mesothelioma lawyers and product liability lawyers provide legal representation to victims of preventable tragedies as a result of corporate negligence.
"Accidents don't just happen ... almost always, they can be avoided with the simple application of due care and, sadly, many are the result of gross neglect," said Eddins. "We want to be the voice for those who are victims of corporate neglect and misconduct."
About Eddins Law Firm
Eddins Law Firm, P.C. is one of the country's most prominent trial law firms experienced in representing victims of mesothelioma from asbestos exposure and other complex legal disputes. We are experienced trial lawyers with extensive resources, seasoned at battling the largest of corporations (Fortune 100) in difficult legal disputes. No matter how large the corporation may be, or the size of its defense legal team, the Eddins Law Firm, P.C. has the resources to try lengthy multiple week trials to verdict. Because of the firm's successful track record in obtaining large verdicts and settlements, the Eddins Law Firm, P.C. is capable of leveraging significant settlements often early in the litigation process.
To learn more about Eddins Law Firm, P.C., please review our website, http://www.eddinsfirm.com, or contact us at 866-632-7574. We serve clients nationwide from offices located both in Dallas-Fort Worth metroplex at Southlake Town Square, 112 State Street, #200, Southlake Texas and in California, 273 W. 7th Street, San Pedro, CA 90731.
# # #