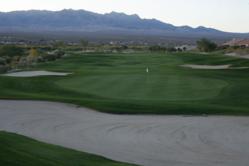 This is a great chance for the pros to get into some good weather and show some appreciation toward their club members
Mesquite, NV (PRWEB) October 13, 2011
November and December might be considered premier golf months in Mesquite with a heavy schedule awaiting golfers from several states. The southern Nevada city about 80 miles north of Las Vegas hits high gear about this time of year beginning with the annual Mesquite Fall Pro Am.
Sporting some of the finest golf courses in the country, Mesquite will showcase four of its prize layouts during a pair of gatherings.
The Mesquite Fall Pro Am kicks off the intense schedule Nov. 13-15 at Falcon Ridge and CasaBlanca courses featuring a $42,000 purse.
The third annual Southwest Invitational set Nov. 15-18 at the CasaBlanca and Palms courses features a $10,000 purse.
Considered a favorite among golfers from several states, the Southwest Invitational tournament will begin with a Skins game Nov. 15 at the CasaBlanca Golf Club. The cash game with a $100 buy-in per player promises to be a huge kickoff to the week's format.
The second day features a two-man, one best ball format at the CasaBlanca. The final day is a two-person scramble at the Palms.
About 60 two-man teams are expected to compete in the prestigious event.
"This is time for some very serious golf," said Darrell Edwards, who spends the year booking golf gatherings for Mesquite Gaming at his offices inside the CasaBlanca Resort. "The weather is generally very good this time of year in Mesquite and those participants who attend our tournaments here return home telling everyone what a great time they had."
Edwards said golfers from as far away as Georgia are expected to play in the Southwest Invitational.
Brian Wursten, the director of golf at Falcon Ridge, said the tournaments create a blockbuster week in Mesquite.
"This is a great chance for the pros to get into some good weather and show some appreciation toward their club members," Wursten said. "They bring their club members out to Mesquite for a good time and good golf. It's just plain good PR all the way around along with a nice vacation and some good weather."
Falcon Ridge is a 6,550-yard; par 71 desert layout with beautiful landscapes; while the CasaBlanca Golf Club nestled in wildlife features a 7,011-yard, par 72 layouts. The Palms is said to feature two courses in one with a perfect blend of traditional and desert golf.
The front nine of the Palms is an old-fashioned, all-grass layout; while the back nine includes challenges through and around deep canyons for a total of 6,813 yards.
The CasaBlanca Golf Club features an 18-hole landscape designed by Cal Olsen, and is nestled into a wildlife sanctuary. Thirteen of 18 holes are surrounded by water.
The heavy schedule of golf events in Mesquite continues with the Nevada Open and Nevada Senior Open Golf Championships Dec. 12-16 at the Palms and CasaBlanca courses.
Further information regarding the tournaments can be found at http://www.casablancaresort.com/CasaBlanca-Golf-Club-Tournaments.php.
###