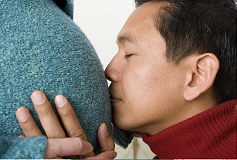 "I can't wait to be held by you"
Cobalt, CT (PRWEB) September 28, 2013
Franklin Signature Company, the licensed manufacturer/distributor of the Baby on the Way Collection® of unique greeting cards sent to moms, dads, siblings, grandparents, friends, and Godparents from the yet-to-be-born baby, is making its collection available to consumers for the first time online.
The Collection, launched after Franklin Signature Company CEO Keith Franklin wrote poems to his wife during their first pregnancy from their son (still growing in his mom's belly), is already available in 450 Hallmark stores in the U.S.
Consumers can shop online at http://store.babyonthewaycollection.com. The new website combines a comprehensive gallery of cards and information for retailers to inquire about carrying the Baby on the Way Collection in their stores.
"When we were expecting our first baby, I wrote letters to my wife from him, and she was so touched. At that time, we had no idea the poems I crafted would become an expanded collection of greetings for expecting families," said Keith Franklin, President/CEO of Franklin Signature Company. "It brings me great joy to receive the extraordinary testimonials and calls every week from buyers and recipients of our heartfelt expressions."
Also featured online is a new line of greeting cards called, Baby Talk Collection™ as well as an E-book, "Every Baby on the Way Has Something to Say." The E-book is a customer favorite and includes a letter from the baby on the way that parents read monthly over the nine-month period of pregnancy.
The E-book is available free for a limited time to visitors on our marketing blog: http://bloggerbeat.com/baby-on-the-way/free-ebook.
About Franklin Signature Company
Franklin Signature Company is the manufacturer and licensed distributor of a variety of greeting card lines and accessories including, "The Baby on the Way Collection® and Message in a Belly™." They are currently available in 400+ US retail stores throughout 40+ US states and 2 major chain test markets since the launch in 2010 and growing every day. The corporate website at http://www.franklinsignature.com contains additional information.
# # #
CONTACT:
Keith Franklin, CEO
Franklin Signature Company
Phone: (860) 316-5533
Email: kfranklin(at)fscwholesale(dot)us