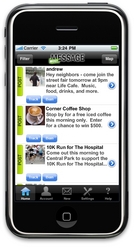 What's going on around you, right now?
New York, NY (PRWEB) December 21, 2009
MessageMost - a new short, local, and mobile messaging service - announces a set of application programming interfaces (API) which will allow developers to leverage public and user-specific MessageMost data to build cool Web-based and mobile applications. The APIs are released prior to the offical release of MessageMost scheduled for the first quarter of 2010.
Launched APIs include posting messages to the network, tracking who receives messages, and following a user's location, among many others.
MessageMost aims to be a "messaging service for the rest of us" connecting location based businesses, bands and concerts, events, and protests to the people who are around those locations. MessageMost answers the question, "What's going on around you, right now?"
"In order to be a powerful and useful network, we must have an involved and dedicated development community," said founder Andrew Saxe. "MessageMost has developed beta applications for the Apple iPhone and Blackberry Smartphone, but we know that the global development community can build much better applications than what we ever could build ourselves."
To encourage development, MessageMost announces a Developer Challenge and a pool of award money. "We a very small business with not very deep pockets, but we hope developers around the world will take advantage of this new network which they can help build from the ground up," added Andrew. "We're looking forward to seeing awesome applications and building great partnerships."
###