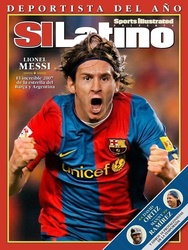 In 2007 Lionel Messi went from being a wildly talented prodigy to being the best soccer player in the world
NEW YORK (PRWEB) December 10, 2007
The Sportsman of the Year issue, dated December 10, will be distributed to SI Latino subscribers beginning today. The cover story honoring the 20-year-old Messi will also be available in English on SI.com.
"In 2007 Lionel Messi went from being a wildly talented prodigy to being the best soccer player in the world," says Hunt. "He became the leader not only of the star-studded Barcelona club but also of the Argentine national team, scoring sensational goals that were the talk of Spain's La Liga and the Copa America and were beamed around the world on TV and the Internet. Through it all he remained humble and a team player, qualities that may someday put him in the company of the greatest soccer players of all time: Pele, Diego Maradona and Alfredo Di Stefano."
In the December-January cover story, "The New King," distinguished journalist and SI Latino contributor John Carlin talks with Messi about his early sacrifice when, at the age of 13, he left friends and a good part of his family behind in Argentina to enter for FC Barcelona's celebrated youth training system. Carlin also breaks down Messi's three most memorable goals of 2007, and draws out the young star on his love for the game and on what it's like to be looked upon for leadership, inspiration and scoring despite being the youngest starter on a Barcelona squad full of stars such as Ronaldinho, Thierry Henri and Samuel Eto'o.
In addition to Carlin's cover story on Messi, SI Latino profiles the 12 other outstanding Hispanic athletes of 2007.
About SI Latino
SI Latino is Sports Illustrated's Spanish-language magazine, a bimonthly publication devoted to Hispanic athletes and distributed free to 500,000 subscribers in the mainland U.S. and Puerto Rico. For a free subscription, go to our website, http://www.silatino.com, and simply provide your name and address.