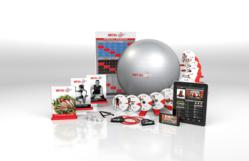 Ronkonkoma, New York (PRWEB) May 06, 2013
MET-Rx® and the MET-Rx 180® team have joined up with Celebrity Sweat to launch the Celebrity Fitness Expo Series. The series, which will hit the road on a five-city tour this summer, will begin in St. Petersburg, FL in May and conclude in Denver, CO in August. Each event will feature master trainer and fitness innovator Frank Sepe in person leading workouts on site. Details about the event, which is free and open to the public, can be found at Celebritysweat.net.
The MET-Rx 180® team, in conjunction with Celebrity Sweat athletes, will be conducting group workouts and fitness demonstrations in locations ranging from beaches to fishing piers. The kick-off event will take place May 11, 2013 from 10:00 a.m. to 4:00 p.m. in St. Petersburg, Florida, where Frank Sepe of MET-Rx 180® will be conducting two, 45-minute beach workout sessions on stage for all to enjoy. Sepe's sessions will begin at 12:30 p.m. and 2:30 p.m. Participants interested in joining him on stage should plan to be at the exhibition stage at those times.
MET-Rx® athlete Kim Heinz will be on hand to run fitness contests and demos at the MET-Rx 180® booth. Attendees can also visit the MET-Rx 180® booth for nutrition bar tastings and chances to win great prizes.
The Celebrity Fitness Expo series features hourly workouts by some of the best in Health & Wellness, led by Tae Bo master Billy Blanks, and also featuring weight training, Zumba, wrestling, CrossFit Training and other fitness areas.
The Official Dates for the Celebrity Fitness Expo Series:
St Petersburg, Florida (Kick-Off) May 11, 2013
Hermosa Beach, California June 22, 2013
San Diego, California June 23, 2013
Seaside Heights, New Jersey July 27, 2013
Denver, Colorado August 2013 (Date TBA)
MET-Rx®
MET-Rx® products offer engineered nutrition -- products that have been specifically formulated with a precise nutrient profile to produce specific metabolic effects. We've formulated our products to provide superior nutrition that promotes health and fitness, and an easy and convenient way for people to benefit from a wide spectrum of nutritional benefits. Met-Rx 180® is a revolutionary workout program designed to "Transform Every Body"® in three 30-day phases. It uses fundamental workouts to condition your body to become acclimated to working out for the first 30 days. Combined with a nutrition plan and optional supplements, Met-Rx 180® is a well-rounded program to shape your body from every angle.