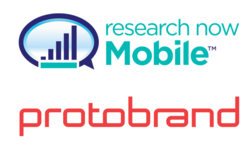 Meta4 Mobile™ can uncover emotions all along a shopper's journey.
Boston, MA (PRWEB) November 08, 2012
Protobrand, a research and branding firm headquartered in Boston, MA, formally released a smartphone version of Meta4 Insight™, the world's only online metaphor elicitation tool for brand research. By transferring Protobrand's proprietary tool onto the Research Now Mobile™ platform, the company is able to further build out its offering to cater to the needs of mobile marketers.
Meta4 Insight™ builds upon decades of academic thought and scientific research into the workings of the human mind. Metaphor elicitation is a well-known technique among market researchers for tapping into consumers' deep-seated perceptions and goals. Ensuring data saturation, Meta4 uniquely conducts this technique in an online setting, using a proprietary image database to encourage non-literal thinking and reveal people's unconscious minds.
"Mobile research methods are a growing tool for marketing professionals, as they realize that traditional methods of data collection often occur too far in time and place from actual consumption," says CEO Phil Granof. "We revolutionized the world of research by building a metaphor elicitation tool online. Now with Meta4 Mobile, our proprietary method for uncovering human emotion can be put into the field all along a shopper's journey."
"Through efforts such as this, we are increasingly enabling market research agencies to fully leverage mobile technologies combined with niche offerings to help them win in the mobile and digital world," said Pala Kuppusamy, CEO of Research Now Mobile. "The fusion of our robust mobile research platform with the Meta4 projective methodology offers the industry exciting potential for new forms of knowledge deriving from Meta4 Mobile."
The Research Now Mobile platform is a unique mobile research platform with survey data collection that supports more than 20 question types with advanced logic, and permission-based passive data capabilities that capture over 15 behavioral metrics from mobile devices.
About Protobrand
Headquartered in Boston, MA, Protobrand is an independent research and branding agency driven by consumer insight. By uncovering the rich, unseen motivations behind human behavior, Protobrand develops strategic and creative solutions that result in emotionally resonant brand relationships. Clients include global and nationally recognized brands such as Lee, Ocean Spray, Taco Bell, Nivea, Bank of America, Reebok, Toyota, and Wrigley.
About Research Now
Research Now, the leading digital data collection provider, powers market research insights. We enable companies to listen to and interact with the world's consumers and business professionals through online panels, as well as mobile, digital and social media technologies. Our team operates in 24 offices globally and is recognized as the market research industry's leader in client satisfaction. We foster a socially responsible culture by empowering our employees to give back. To find out more or begin a conversation with us, visit http://www.researchnow.com.