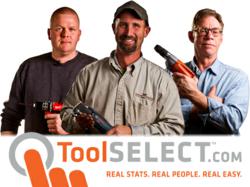 When you're building a tool, especially for heavy-duty applications, you always have to take safety into account
Grand Rapids, MI (PRWEB) March 21, 2012
Metabo Tools look to increase safety and reduce the likelihood of injury with two new instant-brake angle grinders, igniting reviews and discussion among professionals and do-it-yourselfers the ToolSelect.com community.
The instant-brake feature of these angle grinders is designed to stop wheel rotation in two seconds or less, and the tools are meant for heavy-duty grinding and cutting applications. A mechanical brake system stops a grinding disc in two seconds or less or thin cutting wheels in one second or less, and has been tested to 50,000 cycles with no failures.
"When you're building a tool, especially for heavy-duty applications, you always have to take safety into account," says Terry Tuerk, product manager with Metabo Tools. "These instant-brake angle grinders drastically reduce the risk of injury with the mechanical brake system. Plus, we incorporated a burst-proof wheel guard with seven stops, anti-vibration side handle, current interruption protection, auto-stop carbon brushes and winding protection grid."
Both the WEPBA14-125 Quick and WEPBA14-150 Quick feature a 12.2 amp motor and 1,400 watts of power. The WEPBA14-125 Quick has a no-load speed of 10,000 RPM and a maximum wheel diameter of 5", while the WEPBA14-150 Quick has a no-load speed of 9,000 RPM and a maximum wheel diameter of 6". Both angle grinders use a tool-less wheel-change system and Metabo's ergonomic Deadman paddle switch.
Each tool also includes Metabo Tools' auto-balance technology, which replaces a traditional backing flange with an auto-balancing flange pressed onto the spindle, which functions to reduce vibration. Metabo claims this feature reduces the risk of white-finger syndrome, minimizes operator fatigue and increases grinding disc and tool life by at least 50%.
"The instant-brake feature will definitely generate some lively discussion in our community," says Stephen Glaesman, CEO with ToolSelect. "Especially when working with heavy-duty applications, having confidence in a tool is a huge plus. We'll be interested to see how our community feels about these new angle grinders from Metabo Tools."
About ToolSelect
ToolSelect is an unbiased community powered by its members that covers all aspects, types and brands of tools, but does not actually sell any tools. ToolSelect's members include everyone from experienced tradesmen to complete novices. Users trade tips, compare notes, debate their favorite tools and work together to help each other make intelligent purchasing decisions.
Like ToolSelect on Facebook (ToolSelect)
Subscribe to ToolSelect on YouTube (toolselecttv)
Follow ToolSelect on Twitter (toolselectmedia)